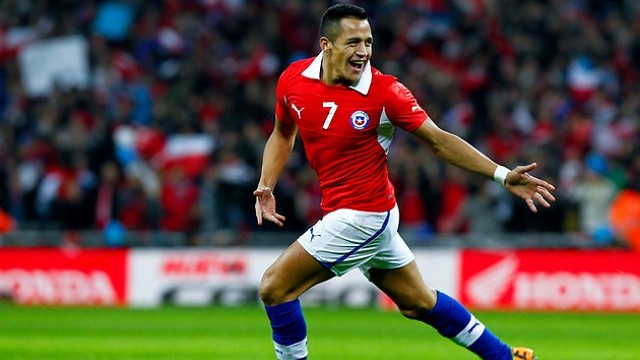 Alexis scored both Chile's goals in Friday night's 2-0 win in a friendly against England at Wembley
Alexis' goalscoring form at club level is also being manifested on the international stage. In tonight's friendly at Wembley, the FC Barcelona striker was in astounding form for Chile against fellow World Cup qualifiers England. In his pre-match press conference he had spoken about his desire to replicate one of the most famous nights in Chilean football history, when Marcelo Salas scored twice in 1998 to stun England in front of their own supporters. And his wish came true. Chile once again beat England 2-0 on their home turf, and once again they had a two-goal hero to thank. Alexis Sanchez.
The first of the goals in this peculiar case of history repeating came early on, after just seven minutes, when the FCB star rose to meet a cross from Eugenio Mena in the air, and leave debutant goalkeeper Forster with no chance. Chile continued to dominate the possession for most of the match, and although England did sometimes look like equalising in the second half, in injury time, Alexis Sánchez beat the Celtic keeper for the second time of the night with a delicate chip that rounded off a wonderful evening for the South Americans at Wembley. At the same time, the defeat leaves England manager Roy Hodgson with plenty to mull over.