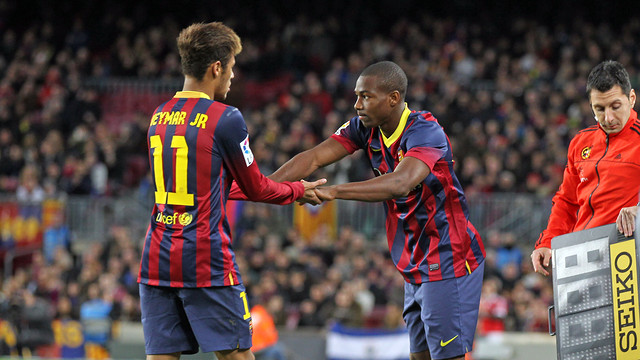 Just 17 years and 10 months old, the Catalan winger is the eighth youngest player to figure for Barça in the league
Adama Traoré fulfilled the dream of every Masia player today when he made his debut with the FC Barcelona first team. What's more, he made his debut in an official game, rather than a friendly – with the 17-year-old coming on for Neymar on 81 minutes and even getting a chance to score on 87 minutes.
At 17 years and 10 months, the Catalan born Adama. with Mali origins, became the eighth youngest player to play in the league for Barça and boss Tata Martino explained: "it's something special for such a young player to train with the first team, which he has been doing all week. We saw the chance to put him on the bench and give him some minutes on the pitch. Neymar had a long journey midweek and it was worth giving the lad a chance".
Adama spoke after the game and explained. "I'm very proud after so many years at La Masia. I am here thanks to the coaches I've had and my team mates. I'd never imagined what this would be like -it's easy to play alongside these players and they give you a lot of confidence".
Adama began the season under Jordi Vinyals in the Youth A team, but has made great progress and featured in Eusebio's B team over the last few weeks.
Debuts més joves amb el Barça a la Lliga
1. VICENÇ MARTÍNEZ
16 years, 10 months, 5 days. Made debut on 19 October 1941: Real Madrid – Barça (4-3)
2. RAMON PARERA
16 years, 11 months and 30 days. Made debut on 10 March 1929: Atletico de Madrid – Barça (4-1)
3. BOJAN KRKIC
17 years and 18 days. Made debut on 16 September 2007: Osasuna – Barça (0-0)
4. MARC MUNIESA
17 years, 1 month and 26 days. Made debut on 23 de maig del 2009: Barça – Osasuna (0-1)
5. LEO MESSI
17 years, 3 months and 22 days. Made debut on 16 October 2004: Espanyol – Barça (0-1)
6. FERNANDO MACEDO DA SILVA 'NANO'
17 years, 4 months and 2 days. Made debut on 22 d'agost del 1999: Barça – Saragossa (2-0)
7. MANUEL GARCÍA
17 years, 4 months i 30 days. Made debut on 23 February 1930: Racing Santander – Barça (2-1)
8. ADAMA TRAORÉ
17 years, 9 months and 30 days. Made debut on 23 November2013: Barça – Granada (4-0)
9. GIOVANI DOS SANTOS
18 years, 3 months and 22 days. Made debut on 2 September2007: Barça – Athletic Bilbao (3-1)
10. ANDRÉS INIESTA
18 years, 7 months and 9 days. Made debut on 21 December 2002: Mallorca – Barça (0-4)
11. XAVI HERNÁNDEZ
18 years, 8 months and 8 days. Made debut on 3 October1998: Valencia – Barça (1-3)