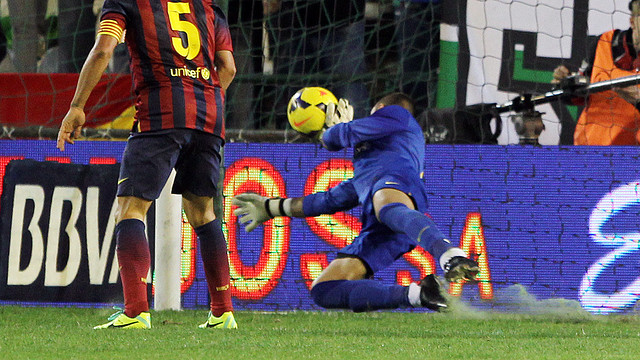 The Barça has the best saves percentage on the whole league
At the Villamarín we saw further examples of his match-winning interventions
After 13 games, Víctor Valdés has the best goalkeeping record in La Liga, with just 8 goals conceded. He also has the highest saves percentage in the competition (84%): he saved 42 of the 50 shots on target that he has faced. Some keepers have made more saves, such as the 63 by Keylor Navas (Levante), 56 by Esteban (Almeria) and 55 by Moyà (Getafe), which is natural enough, as the keepers at those clubs generally have more work to do, but they have also let in a considerable number more goals.
Crucial interventions
At Betis, Víctor Valdés made yet another vital save when it was 0-0 and Juan Carlos was clearly through on goal. That was not the first time that the FCB stopper has made a save that could have changed a match.
Back in game two, in Malaga, Valdés prevented a late equaliser. And at Rayo he saved a Trashorras penalty when there was just one goal in it, and with the same scoreline against Almeria, he got the better of a one-on-one with Rodri.
But the Clásico was probably his best match. It was 1-0 just before the break when he prevented what looked like a certain Khedira goal. And in the second half, he pulled off a spectacular save to deny Cristiano Ronaldo. Safe as houses.