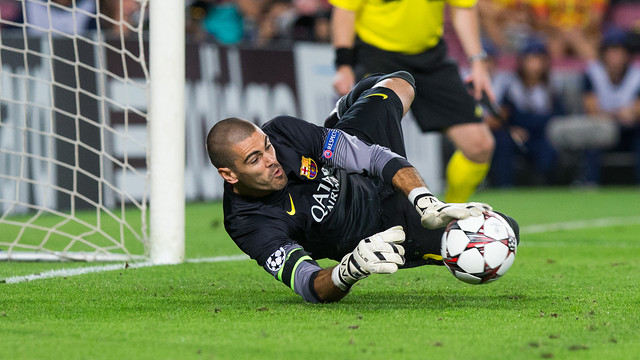 The FC Barcelona keeper sits down with Antena 3 to talk about Barça's start to the 2013/14 season
Víctor Valdés visited the set of Antena 3's El Hormiguero 3.0 to talk about his personal life and his views on how Barça have started the season.
"I'm very happy with how we've started the season and because of how we're playing. It's said that players are happy when their team wins but it's also a personal satisfaction for me when no goals are conceded," said Valdés. The keeper, whose back-to-back penalty saves against Ajax and Rayo Vallecano allowed Barça to win both matches by 4-0, talked about how he approaches shots from the 11-meter mark: "I'm intuitive and that helps me. But I saved Trashorras' penalty because I know him, we grew up together."
Valdés then went on to discuss his relationship with the Barça fans: "I feel understood. I feel the affection from the fans and I'm thankful for it. For me it's an honour to be reminded each day that they have affection for me."
Brazilian mohawks
Neymar, who in Brazil is known – in addition to his obvious skill on the pitch – for his flamboyant hairstyles, was another topic of discussion. When asked about his first interaction with the Brazilian, the keeper said: "When I met Neymar I was accustomed to seeing him with his mohawk, he always had peculiar hair, he was radical, and I really liked it." He added: "When he arrived here he was a bit more normal, he had Will Smith hair… and I told him: 'Listen Ney, I really prefer you Santos look, the mohawk – you were scary. You're scarier that way.' He looked at me and said: 'Give me a week, brother, give me a week.' And now he's got it back," said a laughing Valdés.
Jitters still come to an experienced father
Valdés, who recently welcomed his third child into the world, went on to talk about what it's like to be a father to a newborn: "I'm very proud to be a father again, she's my third. I know I'm a keeper but I have butterfingers, and whenever I'm handed a newborn I always get the feeling that I'll drop her… they're so fragile, I don't know, I get a bit panicked."