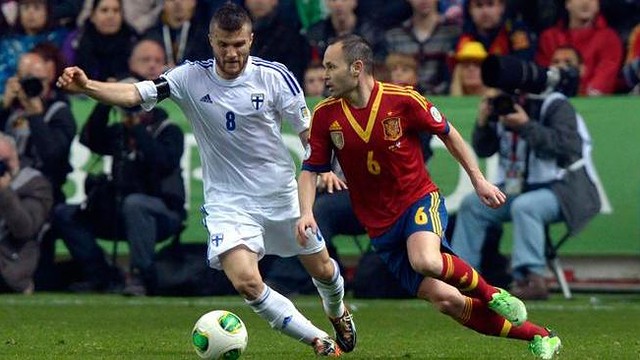 Messi and Mascherano both miss Argentina's games through injury, while no fewer than seven FCB players will be in the Spain squad
For the next few days, FC Barcelona will be without twelve members of the squad, who are all away representing their different countries. Vicente del Bosque is taking seven Barça players with him for the last two World Cup qualifying matches: Víctor Valdés, Gerard Piqué, Sergio Busquets, Andrés Iniesta, Xavi Hernández, Cesc Fàbregas and Pedro Rodríguez.
Alex Song (Cameroon) and Alexis Sánchez (Chile) also have qualifiers this week, while Dani Alves and Neymar have friendlies for Brazil against South Korea and Zàmbia. Sergi Roberto is also away with the Spain U21 squad for two Euro 2015 qualifers.
Spain almost there
Spain are joint top of their group with the same 14 points as France, but have a game in hand and with home fixtures against Belarus and Georgia this week, should be able to book a direct spot in the finals in Brazil next year. For Alex Song and Cameroon, it's a home and away fixture against Tunisia that stands between them and a place in the last 32. And Chile, who are at away to Colombia and at home to Ecuador this week, are currently third in the South American qualifying group, and guaranteed at least a place in the play-off against Jordan, although with the right results this week, they will be able to claim one of the direct spots.
Fixtures
October 10
Spain U21 v Bosnia (20:30, Cuatro)
October 11
Spain v Belarus (22:00, Telecinco)
Colombia v Chile (22:00)
October 12
South Korea v Brazil (13:00, Esport3)
October 13
Tunisia v Cameroon (19:00)
October 14
Spain U21 v Hungary (22:00)
October 15
Spain v Georgia (21:00, Telecinco)
Brazil v Zambia (21:30)
October 16
Chile v Ecuador (01:30)