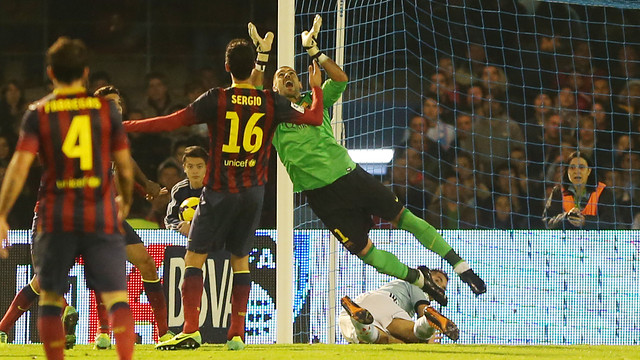 Not once this season has Valdés played three consecutive game without keeping a clean sheets
Alves won the most balls and also made the most completed passes
Balaídos saw Alexis and Cesc score in the same match for the sixth time
FC Barcelona collected yet another full set of three points with a 3-0 win in Vigo. Here we pick out a selection of facts related with Tuesday night's game:
• FC Barcelona have kept nine clean sheets in their 16 official matches played so far this season.
• Not once this season has Valdés played three consecutive game without keeping a clean sheets. Before the shutout against Celta, he had conceded goals against Milan and Real Madrid.
• On the day that Alexis, who has scored nine goals this term, made his one hundredth appearance, Sergio Busquets played game 250 in a Barça shirt.
• No player made more completed passes than Dani Alves (66). Bartra was second in the list (63).
• It was also the Brazilian fullback who recovered the most balls (15).
• In the five games that Bartra has started at centre back, FCB have only conceded one goal.
• Puyol is similarly effective. In the two games he has played since returning, Barça's goal has remained intact both times. His defensive partner on both occasions was Bartra.
• Apart from Valdés, the players who have the longest runs of appearances in the starting eleven have been Adriano (10), who was taken off last night as a precautionary measure, and Busquets (4).
• Alexis has six league goals this season. Last night was the first time he had ever scored against Celta.
• For Cesc, it was only his second goal of the league season. In total, he has 32, the same as Alexis.
• Balaídos saw Alexis and Cesc both score in a game for the sixth time. Every time the duo have both found the target, Barça have won the match.
• Neymar Jr missed only his second game of the season. The other was the 2-0 win in Almeria.