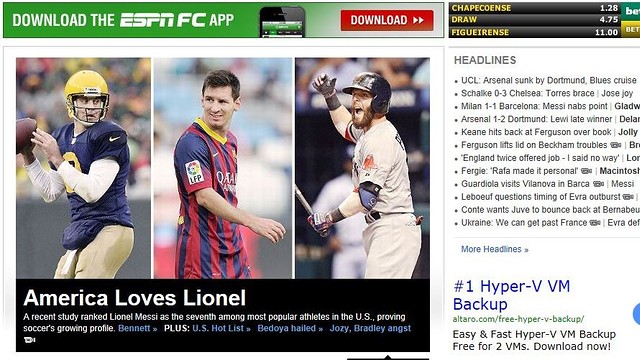 The FC Barcelona forward is the first footballer to break into ESPN's top-10 most popular athletes ranking
Messi is the fourth-most popular athelet among 12 to 14 years old demographic

On the day Leo Messi scored the equaliser for Barça in the match against Milan (1-1), the Argentinian was named one of the most popular athletes in the United States of America.
According to a report published today, October 22, by ESPN, the forward is the seventh most popular athlete in the USA and he has the privilege of being the first footballer to break the network's top-10 most popular athletes ranking. This is particularly significant seeing that football isn't a major sport in the country.
Popular with the kids
Football, which is known as soccer in the United States, is becoming more popular with kids in the country as Argentinian's goals, and those scored by other great footballers in Europe, are readily available for viewing on television. This is the reason that Messi, who has won four Ballons d'Or, is the fourth most popular athlete among people between the ages of 12 and 24.
"Who is your favourite athlete?"
The survey process – which consisted of 1,500 phone calls per month – started in October of 2012 and ended in September the following year. The question that was asked was: "Who is your favourite athlete?" Michael Jordan, Peyton Manning and LeBron James top the list while footballers like Cristiano Ronaldo (21) and David Backham (47) also figure in the ranking.