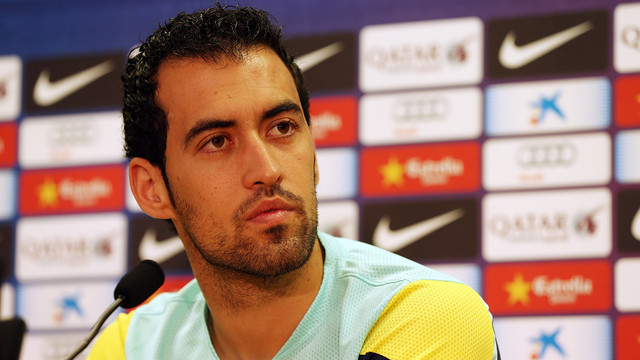 The midfielder highlights the importance of Saturday's match against Osasuna
"It's always been difficult for us in Pamplona, but we'll try to come back with the three points," he said

Sergio Busquets is only focused on the next match. He's not keen on thinking about the upcoming Clásico until next week. "The match on Saturday is very important and we, the players, know that we first have to play Osasuna, they are a tough team to beat at home. We've always had a hard time in their stadium, but we'll try to come back with the three points," he said during this afternoon's press conference. He's clear that there's nothing better to improve the team's confidence than to win games. Busquets knows that a victory in Pamplona "will better help us approach the Clásico."
[[CITA_1]]
The midfielder was then asked about Barça's record start in La Liga and the possibility of breaking the all-time best start in the history of the competition, a feat the Blaugrana would achieve if they defeat Osasuna and Real Madrid. "It's obvious that getting the record would mean having a bigger point advantage and that our start to the season woulb be unsurpassabl, but records don't give you titles and we can't forget about Atlético Madrid," he said.
This Thursday, the internationals who featured for their respective countries trained for a second time with their team-mates. "We're doing well. We're trying to recover in the best way possible. There are no excuses, because all the national team play and many players go to other countries," said Busquets, who played a total of 180 minutes for Spain in the matches against Belorussia (2-1) and Georgia (2-0).
The midfielder also talked about his personal fitness: "I don't have any problems with my pelvis. I do preventative exercises to avoid injury."
[[CITA_2]]
When asked about Gerardo Martino's rotation policy, Busquets said: "We like it and we accept it. The players want to play, but we know that it's a long season and that we will all get playing time."
Lastly, Busquets also talked about the possibility of Carles Puyol's return to competitive play. "He's the captain and he's super important, both on the pitch and in the dressing room. He's been out of action for a long time and he's very close to coming back. We know that he always gives us a lot," Busquets declared.
It's obvious that getting the record would mean having a bigger point advantage and that our start to the season woulb be unsurpassabl, but records don't give you titles
Puyol is the captain and he's super important, both on the pitch and in the dressing room