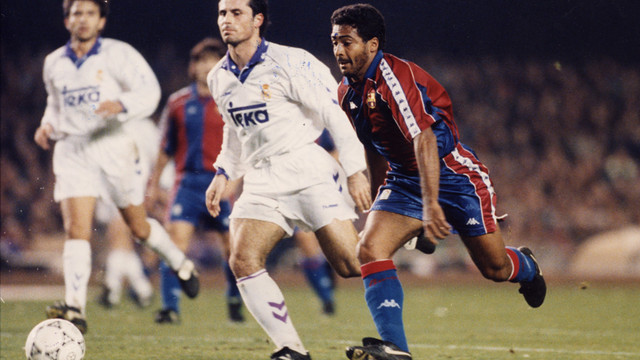 Neymar, like Romario, Rivaldo and Ronaldinho before, is about to get his first taste of playing Real Madrid
Neymar Jr da Silva el Barça is continuing the tradition of the best Brazilian players of the moment playing for Barça. Now it's time for his first clásico, following in the footsteps of Romario, Rivaldo and Ronaldinho.
1993/94: Romario's 'cow tail' in 5-0 win
It was in his first ever game against Real Madrid that Romario da Souza scored one of the finest goals in clásico history. It was 0-0 after 24 minutes when he received a pass from Guardiola on the edge of the area with his back to the goal and tightly marked by Rafael Alkorta. Romario spun on the spot and moved the ball with the inside of his foot before using his outer foot to place the ball deliciously past Buyo. The trick, known locally as the 'cow's tail', has since become the iconic image of that historic 5-0 win.
1997/98: Rivaldo offers no pardon (2-3)
Rivaldo also scored in his first clásico, in his case at the Santiago Bernabéu. In the 5th minute he beat goalkeeper Cañizares with a near-post strike. The game is best remembered for Giovanni Silva's goal to make it 3-2 and the celebrations among the Barcelona players afterwards. Rivaldo would go on to punish Madrid on further occasions, especially in 2001, when a brace of goals would have been a hat-trick if his last-minute goal hadn't been outrageously disallowed.
2003/04: Ronaldinho's magnificent chip (1-2)
Ronaldinho missed his first clásico through injury, but was back for the return at the Bernabéu, and contributed to the 2-1 with an incredible chip to Xavi, who converted the assist by sending the ball over Casillas' head. Barça were gaining ground after a poor start to the season, and eventually finished second.
1996/97: Ronaldo held (2-0)
Not all Barça's Brazilian superstars had such memorable first clásicos. Ronaldo Nazario's experience was one of 2-0 defeat, with most of the attention on Luis Enrique, who was returning to the Bernabéu for the first time in an FCB shirt.