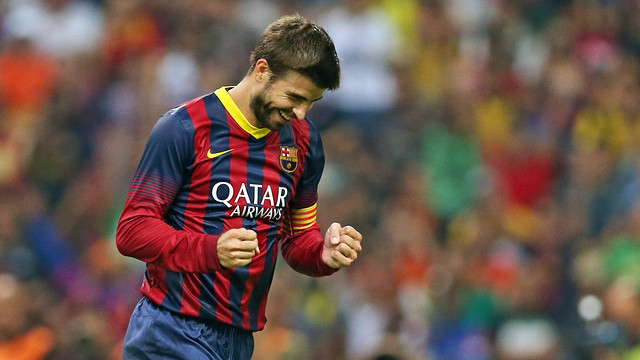 Piqué reckons that with the new boss: "right from the start, there was a good feeling".
"Neymar is one of the most talented footballers I've ever seen"

In an interview with the Catalan daily La Vanguardia, Gerard Piqué reckons: "the start which we have made to the season gives us plenty of hope". Much of that must be down to new boss Gerardo Martino and the Catalan defender was quick to make it clear that the Argentinean's arrival had been a pretty smooth affair: "right from the start there was a good feeling with Martino. You could see that he is very clear about what he wants and he is a very direct person. You can see that even though he has come in from the outside, he knows what the Club stands for and how we play. He showed that by not changing our style of play".
Tight squad
As to his own role in the Barça defence, Piqué insisted: "when you've been in the same team for six seasons, you play a lot of games and that helps to keep you calm. This is one of the most open changing rooms I've known and amongst the players we all share and give pour opinions. Many of us have come up through the ranks at the Club and we've known each other for a long time – we speak the same language and we share the responsibility out between us".
About Neymar
Piqué also spoke about the Club's big summer signing Neymar, claiming: "he's shown over these two months that he's going to be an important player for many years. He is one of the most talented players I have ever seen. He's got a flying start and over the first five or ten metres he's unstoppable. He's also very skilful with his right and left foot and he knows how to take penalties and free kicks. He's a complete player and complements Leo Messi well in terms of getting goals, which is something where he has perhaps lacked support over the last few years".