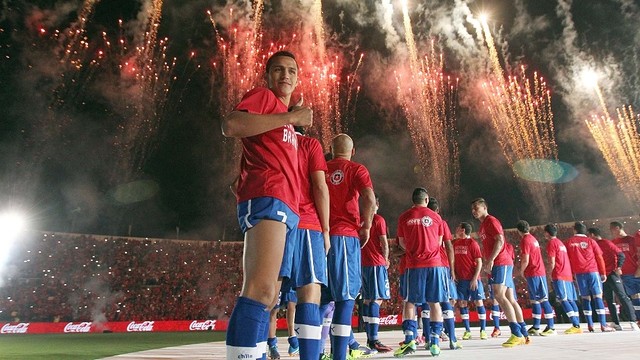 Alexis played a total of 180 minutes with Chile and he scored three goals during the international break
Piqué and Busquets are the two Barça players to play the entire 180 minutes for Spain against Belorussia and Georgia
Babunski and Sanabria feature for their countries
Two Barça B players also played for their respective countries during the international round of World Cup qualifiers. The Macedonian David Babunski played the last 24 minutes in the match against Serbia (5-1) and the Paraguayan Tonny Sanabria played the last 29 minutes in the match against Colombia (1-2).
A dozen FC Barcelona players are on their way back to Catalonia to train with the first team after the conclusion of the international break. All of them enjoyed playing time and four of them managed to get on the scoresheet. In addition, three Barça B players were called up to play their respective countries.
With seven FC Barcelona players on the team, Spain won both of its matches against Belorussia and Georgia and qualified for the World Cup Finals. One of the standout players for Spain was Xavi, who played a total of 155 minutes and scored a goal, while Piqué and Busquets played 180 minutes ahead of Pedro (148), Iniesta (124), Valdés (90), and Cesc (80).
Alexis leads Chile
Chile also managed to qualify for the World Cup. The forward Alexis played a key role for his country seeing that he played 180 minutes and scored two goals in the first match against Colombia (3-3) and another against Ecuador (2-1).
Brazil, the World Cup host, continue to prepare for the tournament with international friendlies. Neymar and Dani Alves flew to Asia ahead of Brazil's two friendlies. The first match, against South Korea (0-2), saw both Barça players play the entire 90 minutes and Neymar scored the opening goal from a long-range free kick. The second match was played in Beijing against Zambia, Luis Felipe Scolari named the two players to the starting line-up. Brazil defeated Zambia by 0 to 2 and Neymar was subbed off when there were eleven minutes left on the clock, while Dani Alves played the whole match.
Decisive match for Song and Bagnack
Alex Song and Macky Bagnack were both named to Cameroon's national team ahead of the decisive two-leg showdown against Tunisia for a spot in the World Cup Finals. The first leg ended in a 0-0, the second leg will be played on November 17. The midfielder played the entire match, while the Barça B center back watched the game from the bench.
The U21 Spain team, with Sergi Roberto in its ranks, played two qualifiers for the 2015 Euro. The Catalan played the 90 minutes and scored a goal and gave an assist in Spain's victory over Bosnia (3-2). Sergi Roberto didn't feature in the second match, against Hungary, but Gerard Deulofeu (on loan to Everton) played the last eleven minutes of the match. Against Bosnia, the forward player enjoyed the last 24 minutes of the match.