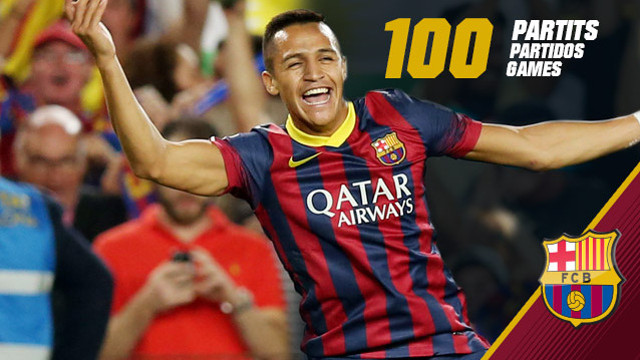 The Chilean featured in his 100th official match with FC Barcelona this evening in Vigo
He's scored a total of 32 goals and won 72 matches as a Blaugrana
Alexis Sánchez featured in his 100th official match in the FC Barcelona strip this evening. He arrives to this symbolic milestone in what is likely his best season as a Blaugrana. After signing for the Club in the summer of 2011, he's claimed a total of six titles and scored 32 goals.
In this Tuesday's match played in Vigo, Alexis scored the opener for Barça after only nine minutes, he was subbed out on the 83rd minute.
Teams from Madrid, his favourite victims
After taking a look at his 32 goals, it's clear which teams are his favourite victims: Madrid-based teams. Real Madrid, Rayo Vallecano and Getafe, with three goals apiece, are the teams that the Chilean has scored against the most. It's also worth noting that he's scored once against Altético Madrid. Cobeño, Rayo's keeper, is the only keeper to concede three goals to the Chilean.
Of these 32 goals, 13 of them served to give Barça the lead, while six saw the Blaugrana draw level, 12 to increase the team's lead and only one to bring Barça closer to tying a match. 21 of them were scored at the Camp Nou, while 11 were scored on the road.
Encounters with Real Madrid
Alexis Sánchez's career with Barça has been heavily linked to his performances against Real Madrid. He made his debut against Los Blancos in the away leg of the 2011 Spanish Super Cup, and it was against Madrid that he featured in his 50th official match for FC Barcelona – the 2-2 at the Camp Nou from last season. His latest match against Madrid took place on Saturday, when he scored one of his best goals in the Blaugrana strop.
His record after making 100 appearances for the team stands at 72 victories, 18 draws and 10 defeats.