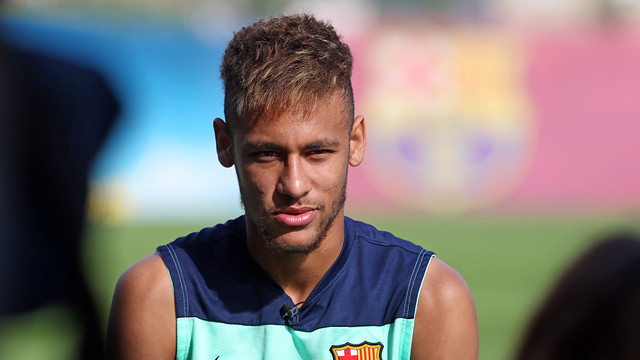 EXCLUSIVE INTERVIEW – The Brazilian explains in an interview with Barça TV and fcbarcelona.com that he understands the importance of a Barça-Madrid match despite not playing in one
He recalls the Clásico of 2005 when Ronaldinho scored two goals in the Bernabéu
He's pleased with the Club's new Portuguese website: "The proximity with Brazil is even greater now"

Four days away from making his first appearance in the Clásico, Neymar Jr sat down with Barça TV and www.fcbarcelona.pt to talk about the upcoming La Liga showdown.
Is the Clásico one of the games footballers dream about?
"Yes, the Clásico is the most important game for any player. It's the match every player wants to play in, it's the game where each player wants to play his best football. This will be my first Clásico and I hope to have a great debut, preferably with a victory."
What is it like before a match against the Club's arch rival?
"I think the anxiety is the same before any match. I understand that we're talking about a very important Clásico but I think that butterfly-in-the-stomach feeling is the same before any game."
[[CITA_1]]
What's your first Barça-Madrid memory?
"I remember the Clásico, I believe it was in 2005, when Ronaldinho scored two goals. That's the Barça-Madrid match I remember most."
What was the most special clásico you experienced in Brazil?
"There are many. I have memories from before I was three years old. The one against Palmeiras was my first clásico and I played a good game. It was a semi-final and we won and I put in a good performance. Later, against Corinthians, in a final which we lost. And against São Paulo, in a semi-final which we won and I had the joy of scoring three goals."
What are the clásicos like in Brazil?
"There's a lot of rivalry. It's only thing that's talked about in the week leading up to the game. It's the focus of the press and the fans. Even the players from opposing teams who are friends end up making bets, and they joke about the match. That's the funnest thing about football."
[[CITA_2]]
Have you talked to Marcelo about Saturday's game?
"Yes, we've talked a little bit about the Clásico. We have a fantastic relationship, he's a good friend, but I told him that FC Barcelona are going to win."
Have your Barça team-mates told you what these games are like against Madrid?
"I don't think there is anything to explain. The players, even the ones who have never experienced it, know how important a match between FC Barcelona and Real Madrid is."
What are your impressions of Barça's new Portuguese website?
"It made me happy because FC Barcelona are a global Club, they have fans all over the world. That also extends to Brazil because of all the great Brazilian players that have played here. I think the Club is even closer to Brazil now. It's an opportunity for the Brazilian fans to follow Barça more closely."
We're talking about a very important Clásico but I think that butterfly-in-the-stomach feeling is the same before any game
Marcelo and I have a fantastic relationship, he's a good friend, but I told him that FC Barcelona are going to win