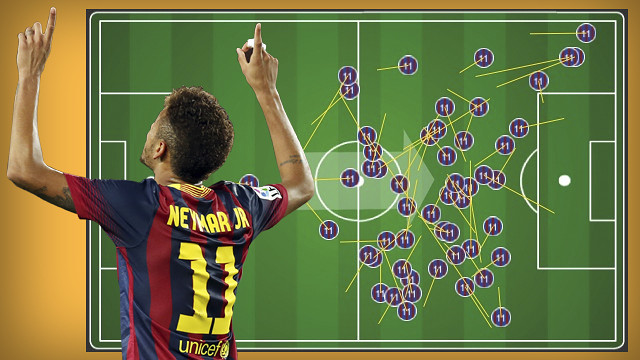 The Brazilian has fitted in at Barça far quicker than anyone expected
He is thrilling to watch, and also produces results – this season he has already scored three goals and provided six assists
Neymar da Silva, Barça's only signing this summer, is living up to the high expectations that preceded his arrival at the club. When the 21-year-old came to Barcelona from Brazil, many feared he may need time to adapt to a team with a very peculiar manner of playing. Neither did it help that because of the Confederations Cup, he hadn't had much of a rest over the summer.
That was one of the reasons why manager Tata Martino decided to limit his participation at first, and it wasn't until the fourth official game of the season, in the Supercup against Atlético Madrid, that Neymar was given a place in a starting eleven.
Magical tandem
There were also concerns about whether it would work to have him and Leo Messi playing in the same team. Not any more. The Argentinian and the Brazilian have displayed a special understanding whenever they have been on the pitch together. Usually playing down the left wing, Neymar opens up the play, unsettles defences, supplies assists and scores goals. He is generous when it comes to creating pressure and also unselfish in front of goal, as shown by the way he allowed Pedro to finish off the goalscoring move at Vallecas. And opponents clearly find it difficult to find ways to deal with him, for he is also the Barça player who has received the most fouls in the league, 32 (a massive 24% of the total).
A leader
With Messi injured, Neymar has had to take on extra responsibility. Against Celtic and Valladolid, he took over the role of 'false centre forward' and has won nothing but praise from his colleagues, the fans and the media for two excellent performances.
Last weekend, he scored his third goals and gave his sixth assists of the season. Not only is he exciting to watch, with some dazzling displays of ball skill, but he also extremely effective.
After the game with Valladolid, Neymar and his compatriot Dani Alves left to join the Brazil squad in Dubai ahead of a mini tour of Asia. On Saturday the 'canarinha' with be playing South Korea in Seoul and on Tuesday 15 they play Zambia in Beijing.

Partiuuuu Ásia !!! by @danid2ois