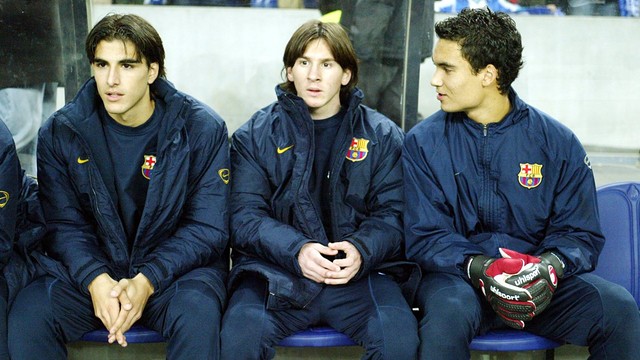 Leo Messi has come a long, long way since his first team debut on October 16 of 2004. Here's an overview of facts and stats from Messi's first game for Barça's senior side:
34,400 spectators. On October 16 in 2004, over 30,000 fans filled the Montjuïc for the Catalan derby between Espanyol and FC Barcelona. It was Messi's first game with the senior side.
---
Four. This is the number of reserve players that were called up to the first team by Frank Rijkaard to complete the team against Espanyol. Four of Barça's first team players missed the match due injury.
---
The bench. Messi was accompanied by Damià, Rubén (keeper), Cristian Hidalgo, Peña, Iniesta and Fernando Navarro on the Barça bench.
---
Minute 9. Deco scored the only goal of the derby with a shot from outside the area that was deflected by a defender before it went into Kameni's goal.
---
Number 30. Messi donned the number 30 on his back when he came in with 8 minutes to go before the end of the match.
---
Deco. The Portuguese midfielder was the man to come off for the Argentinean.
---
17 years, 3 months and 22 days. This is how old Messi was when he featured in his first match for the senior side, he was the second-youngest player to ever don the Blaugrana colours for the first team (The record holder is Paulino Alcántara).
---
Right–wing forward. This is the position that Messi played in this first match for FC Barcelona. He played in this position for the following five years.
---
Survivors. Valdés, Puyol, Xavi and Iniesta are the only Barça players that played for the team in Montjuïc eight years ago that continue to play for the first team today.
---
7 and a half months. That's how long it took Messi to score his first official goal for the Club. It was in La Liga's Week 34, on May 1 of 2005, against Albacete at the Camp Nou.
---
77 minutes. That's how many minutes Messi played for the first team in the 2004/05 season.