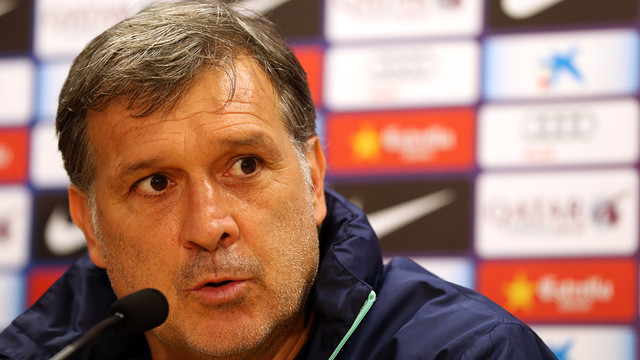 The Barça manager senses that the team is developing in the right direction and hopes to repeat the perfomance in Glasgow against Valladolid
Sarcastic about Barça 'crises'
One of the highlights of Gerardo Martino's conference was his ironic response to a question about the term 'crisis' that is always flashed across the media when Barça's form is anything less than perfect. "I'm not bothered by criticism" he said. "What I have discovered here is that everyone needs a weekly crisis. For example, between Rayo and Real there was a 3-day crisis".
[[DES_1]]Still unbeaten in La Liga and the Champions League, Barça face Valladolid on Saturday in the hope of continuing their good form. Speaking about the match, Gerardo 'Tata' Martino said "for me, every game we have played so far has been as important as any other. This game will be the chance to ratify the job we did in Glasgow and make sure there are no setbacks in our game … I hope we can perform well again".
Martino went on to admit that although "there is room for improvement, the team is evolving. We have made progress since the first match, and I don't think there have been any steps in the wrong direction. We are going from less to more and winning as we do it, which is what we have to do".
Authentic players
Like in Scotland, one of Martino's biggest concerns against Valladolid will be deciding who takes over from the injured Leo Messi. "Neymar, Cesc and Alexis are all different players, so we'll find the best solution for each game." But what he is not expecting is some kind of Messi 'clone'. Instead "each player has to perform in accordance with their own possibilities, they have to be authentic rather than trying to disguise themselves as somebody else".
[[CITA_2]]
On Neymar, he commented that "he's doing an exceptional job for the team", while Alexis "is a very important player. We are sometimes surprised by how harshly he is criticised rather than people highlighting the good things he does".
Puyol ready for Osasuna
Tata Martino also spoke about his defenders, and especially Carles Puyol, who is almost ready to make his return. The coach said "he looks fine to me. We have been talking recently and he has told me that after these last two weeks and the two weeks to come, by the time of the game against Osasuna on October 19 he should be as available as anyone else, although he'll obviously need to get back into the rhythm of playing matches". On the centre backs that have featured in the last few games, "Bartra sometimes plays a bit too fast and if he could move it down a gear we'd see the best version of him. Piqué is one of the best defenders around".
[[CITA_3]]
When Mascherano and Puyol are fit again, we can expect the same kind of rotations that Martino has already applied to other positions. As he explained today "rotations don't weaken the team. We take out one international and can replace him with another international. We are always going to field competitive teams".
Each player has to perform in accordance with their own possibilities, they have to be authentic rather than trying to disguise themselves as somebody else
By the time of the game against Osasuna on October 19 Puyol should be as available as anyone else