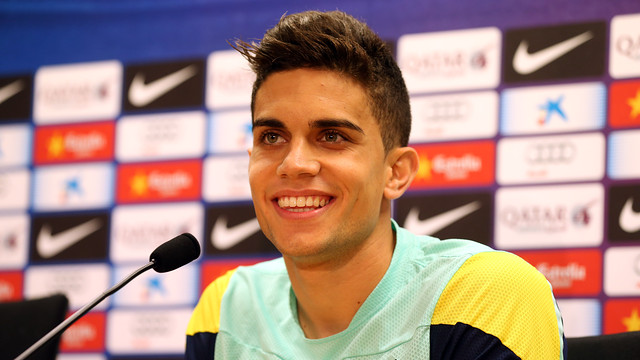 The Barça centre back started in Almeria and Glasgow, and admits to being "very happy with the way things are going"
He adds that he has no plans to leave the club and thanks the players and staff for showing such confidence in him
Marc Bartra is a player who takes his chances. This year, the injury to Mascherano against Real Sociedad obliged him to come on in the second half. He scored in his first game of the season and has since won a place in the elevens against Almeria (0-2) and Celtic (0-1), performing brilliantly. "I'm very happy with the way things are going. I think it's important to continue at this level", he told today's press conference.[[CITA_1]]
The centre back explains this by saying "I'm happy with the confidence I have been shown. Tata has not doubted once about playing me", while on his team-mates he said "little by little I feel more appreciated. I have been competing with them in training and getting a lot of advice. I am learning a lot from the bigger players, some of the best in the world. I have to pay attention and keep learning".[[CITA_2]]
On his future, Bartra claims to only have thoughts for Barça. "I know that the club and my agent are speaking. This has been home for twelve years and I have given it everything and hope to be here for many more" he said, but is not losing sleep over his renewal, because "the most important thing is to train and play well. I don't think about what might happen".
On Saturday, it looks very much like Bartra will be starting again, which would be the first time he has started three games in a row. The experience of Celtic Park on Tuesday is one he'll never forget. "Everything in Glasgow was incredible. The build-up, the atmosphere and the pressure it created. But my head took it all with enthusiasm and I always felt I could do my job well. I felt very comfortable with Piqué, Busquets and Alves by my side".[[CITA_3]]
But sooner or later, Mascherano and Puyol will get over their injuries and Bartra will be competing with them for a place. Not that he sees that as a problem, for "we want them fit again as soon as possible. The more we are, the more competition there is and the better we play. If we're doing well now, I can't imagine what kind of level we'll be at when they come back".
Tata Martino hasn't doubted once about playing me
This has been home for twelve years and I hope to be here for many more
We want Puyol and Mascherano fit again as soon as possible. The more we are, the more competition there is and the better we play