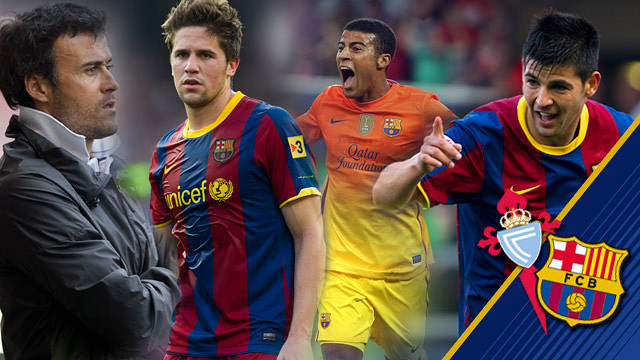 All four of them have history with FC Barcelona, and in Luis Enrique's case, he also managed Barça B for three seasons
Rafinha is on loan to Celta this season
It's a date with the past for four members of the Celta roster this Tuesday evening in Balaídos (22.00, Canal+ Liga and GolT). Luis Enrique, Fontàs, Rafinha and Nolito are heavily linked with FC Barcelona, as all of them have defended the Balugrana colours at some point in their careers.
Luis Enrique, player and manager
The most storied of the four is Luis Enrique, a well-loved former FC Barcelona player. The now manager played for the Club for eight years, from 1996/97 to 2003/04. He scored a total of 109 goals and made 300 appearances for FC Barcelona. In total he won seven titles with the team: two Ligas, two Copas del Rey, one Spanish Super Cup, one Cup Winners' Cup and one European Super Cup.
In the 2008/09 season he took over for Pep Guardiola on the FC Barcelona B bench when the team was in Segunda B, where he spent a total of three seasons managing the team. In his debut season as a manager, the team finished 5th, just shy of a promotion playoff spot, but in the following season the team managed to earn a place in Segunda A. After his third season, when Barça B finished third in the table, he left the Club to manage AS Roma. He took a sabbatical from football the following year, and in the 2013/14 season he was named manager of Celta Vigo.
Rafinha on loan
It will be a strange game Rafinha Alcántara as he might feature against the team that loaned him to Celta. The midfielder left FC Barcelona B to gain experience in Primera with the Galicia-based club. Rafinha made his debut for FC Barcelona under Pep Guardiola on November 9 of 2011, in the Round of 32 of the Copa del Rey against Hospitalet. In total, he's played four times with the senior side: three times in the league and once in the Cup.
Chance for Fontàs and Nolito
The next two players are eager to showcase their quality in Spain's top flight. This is, just like Luis Enrique and Rafinha, Fontàs and Nolito's first season with Celta.
Andreu Fontàs made his debut for FC Barcelona on October 26 of 2010 in the Copa del Rey. In total he played 16 matches with the senior team and scored a goal in the Champions League in the 2010/11 season. This is his second season away from the Camp Nou seeing that last year he was loaned out to Mallorca, where he played a total of nine games. This season he was transferred to Celta.
In addition to these four former FC Barcelona players, there is Toni Rodríguez, who played for Barça B but never made his debut for the senior team. The midfielder played alongside Bojan and Jonathan dos Santos in Barça's youth team.