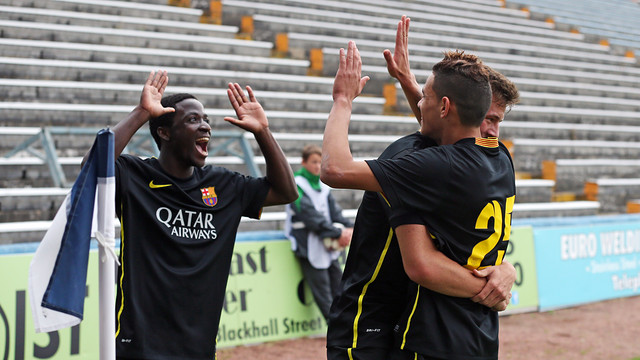 The Juvenil A team won their second UEFA Youth League game, away to Celtic, thanks to two goals from Sanabria
MATCH FACTS
CELTIC FC, 1
JUVENIL A, 2
Juvenil A: Ondoa, Godswill, Quintillà, Palencia, Tarín, Ortega, Enguene (Riera, min 88), Huertas (Kaptoum, min 65), Munir (Ebwelle, min 74), Adama i Sanabria.
Celtic: Oberschmidt, Mcilduff, Findlay, O'Connell, McManus, Kidd, Lindsay, Henderson, Thomson (Calvin, min 75), Johnstone (McLaren, min 82) i Mcmullan.
Goals: Sanabria (min 14 i min 83) i Johnstone (min 52).
Referee: Neil Doyle (IRL).
The Juvenil A team defeated their Celtic counterparts this afternoon by a scoreline of 1 to 2. The Paraguayan, Tonny Sanabria, put Barça ahead on 14 minutes but Celtic drew level on 52 minutes thanks to a strike from Johnstone. With seven minutes to go before the end of the match, Sanabria scored the match winning goal thanks to a superb free kick that was simply unstoppable for the Celtic keeper, Oberschmidt.
Goal for Sanabria, Adama leads the way
The Juvenil A team started the match off with the intention of retaining the ball and avoiding giving Celtic a chance to employ its direct style of play. The first chance for the Blaugrana, on 14 minutes, saw Sanabria score after a clever assist from Enguna.
Adama constantly broke through Celtic's defence on the right wing while Ortega got on the end of two great chances, but neither of the two attempts were successful.
Vertical Celtic
The Scottish team tried to fight back through its direct style of play as they looked for space behind Barça's defensive line – from there they were usually caught off side.
The first 45 minutes saw the home team enjoy two chances, albeit they weren't very clear. Mcilduff thundered down the right wing on 13 minutes but his cross didn't find a team-mate and McMulan, on 25 minutes, tested Ondoa from outside the area, but the keeper did well to save the attempt.
Second half, blow for blow
Celtic came out swinging in the second half, and their asphyxiating pressure paid off after only seven minutes when Johnstone's strike brought the home team level with Barça.
The final half hour of the match was a back-and-forth affair, where both teams created chances to score the go-ahead goal. Huertas and Sanabria nearly put Barça ahead but their attempts went unrewarded. But in the 83rd minute, the Paraguayan fired a brilliant free kick that was simply unstoppable for Oberschmidt.
With this victory, the Junevil A team remain atop Group H with six points out of six possible points.