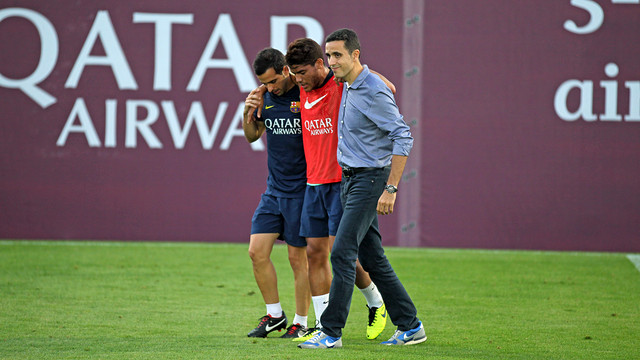 The Mexican player picks up an injury to the ACL of his right knee during this afternoon's training session

Jonathan dos Santos sustained an injury to the ACL in his right knee during this afternoon's training session at the Ciutat Esportiva. The player will undergo additional tests in the upcoming days to determine the extent of the injury. The Mexican is currently in his second season with the senior team and he's featured in a total of three league matches since the start of the season (Valencia, Rayo Vallecano and Almería). Dos Santos made his debut for the first team on October 28 of 2009 in a Cup match against Cultural Leonesa; he was subbed on for Seydou Keita on the 79th minute. One month later, on November 24 of 2009, he made his Champions League debut, against Inter Milan.
Gerard Piqué finished the match against Milan with discomfort in the hamstring of his left leg. Tests confirm that the player's muscle is strained, therefore he will follow a specific workout regiment on Thursday and Friday.
First session focused on the Clásico
The players who started against Milan completed a light training session this afternoon while their team-mates prepared for the match against Real Madrid. Barça B's Adrià Ortolá trained with the first team.
Two more sessions before the match
The Ciutat Esportiva will host another training session on Thursday. It will be held behind closed doors and it will start at 11.00. Captain Carles Puyol will talk to the press after the session. On Friday, a day before the Clásico, the session will be held at the Camp Nou. Tata Martino's men will train at 7:00 PM and will then retire to the Princesa Sofía Hotel.