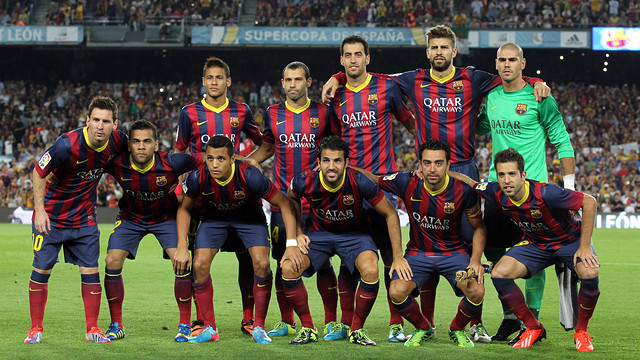 Spain, Argentina, Chile and Brazil will all be at the Brazil 2014 World Cup, which suggests as many as twelve FCB players will be going
Alex Song's Cameroon could also be among the 32 finalists, and players like Puyol, Tello and Adriano also have a chance of making their national squads
Cameroon one game away
Alex Song is just one game away from a place at the World Cup. Cameroon are involved in a head-to-head playoff with Tunisia. For the first leg, Barça B's Macky Bagnack was also picked in the squad that drew 0-0 away, and who will have home advantage for the return in Cameroon on November 17. Barça B striker Dongou has also been included in recent Cameroon squads, and will be hoping to get a chance to go to Brazil.
And not forgetting Jonathan dos Santos, who narrowly missed out on selection for the Mexico squad that went to South Africa. A torrid 'Hex' for Mexico ended last night with defeat to Costa Rica, but the USA's win against Panama means that they will get a second chance in the intercontinental playoff with New Zealand.
Babunski and Sanabria knocked out
Two other members of Barça B have been playing for their countries in World Cup qualifiers, but have not made it into the finals. These are Macedonia's David Babunski and Paraguay's Tonny Sanabria.
FC Barcelona, with 14, had more players than any other club at the South Africa 2010 World Cup, Valdés, Pedro, Piqué, Puyol, Busquets, Iniesta and Xavi were all in the championship winning Spain squad, but Argentina's Leo Messi, Brazil's Dani Alves, Mexico's Rafa Márquez, the Ivory Coast's Touré Yaya and France's Henry and Abidal also made the trip.
Four years later, and as the qualifying stages draw to a conclusion there are twelve FCB players that are almost certain to be heading for Brazil for the showpiece event from June 12 to July 13, 2014. Of course, their ultimate presence depends on fitness and the decisions of their respective national managers, but it looks likely that Barça will be represented by Valdés, Alba, Piqué, Busquets, Xavi, Iniesta, Cesc and Pedro (Spain), Neymar and Alves (Brazil), Alexis (Chile) and Messi and Mascherano (Argentina). But there are others, particularly Puyol, Tello, Adriano and Afellay, who may also be involved.
Barça core
Spain sealed qualification with two wins this week against Belarus and Georgia, and the players picked for the cause by Vicente del Bosque included Barça's Valdés, Piqué, Busquets, Xavi, Iniesta, Cesc and Pedro. Jordi Alba is currently injured, but would otherwise be one of the first choice defenders for the world champions.
Defender Carles Puyol is about to return from injury, and Del Bosque will be keeping a close eye on a man with over one hundred international caps and will have to decide whether to use him in his squad next summer. Cristian Tello, meanwhile, made his Spanish debut in a friendly against Ecuador last month, and is certainly a potential candidate for selection.
Neymar and Alves at home
Brazil are hosting the tournament, and as a result have been spared the qualification process. But the many friendlies they have been playing in preparation for the event have shown that Neymar and Dani Alves are clearly very much part of Luis Felipe Scolari's plans. Their Barça colleague, full back Adriano Correia, is another possibility for the host nation's squad.
Argentina came top of the South American qualifying table, and Messi and Mascherano both played primary roles in doing so. And Chile, for whom Alexis is one of the most important players, have also ensured passage into the finals.
Afellay's Holland qualified
The side managed by former FCB boss Louis van Gaal have been one of the most impressive sides in the qualifying phase, in which Ibrahim Afellay has played a part, albeit only in two games in October 2012 against Andorra (3-0) and Romania (1-4). He is currently recovering from a long-term injury, and it remains to be seen whether he will be part of the Dutch squad next summer.