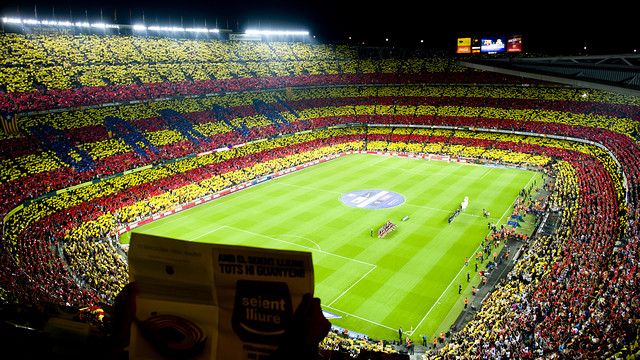 Press outlets from around the world take aim at this Saturday's match between FC Barcelona and Real Madrid
More than a football match
Sports Illustrated, the Guardian and ESPN columnist Sid Lowe sits down with the Guardian's Amy Lawrence ahead of tomorrow's match to offer a bit of context around the Clásico: "You can almost look at it as an international game played between two clubs. That's the fundamental thing, this is a game that has a political or social symbolism which ties into questions of national identity, ties into questions about a country that's been through a civil war and dictatorship and therefore carries a huge emotional, ideological and kind of patriotic baggage with it. That means that it's always huge beyond just football." Lowe added: "If you add in to that the fact they are arguably the best two clubs in the world and certainly the two clubs that have the best two players in the world confronting each other."
In addition to talking about the game's historical background, Lowe also notes that "the noise [in the Camp Nou] will be extraordinary … Michel Salgado told David Beckham: 'Trust me, you've never seen anything like this. You might have done a Manchester United-Liverpool, you might have done a Manchester derby, played in the European Cup final but nothing will prepare you for this.'"
Lastly, the journalist opined about the teams' newest star signings: "I think for Neymar and Bale this will be different. It will be a game where they will be absolutely determined to leave a mark on."
ESPN focus on Carlo Ancelotti
ESPN's Graham Hunter points out that Carlo Ancelotti has a chance to defeat FC Barcelona in Barcelona for the first time in his footballing career. The journalist notes that Ancelotti hung up his boots one two years before AC Milan crushed Barça in the final of the 1994 Champions League final. When he made the permanent switch to the bench, the Italian manager has always found it difficult to deal with the Blaugrana, according to Hunter: Ancelotti and his team were eliminated in the semi-finals of the 2005 edition of the Champions League by his former team-mate Frank Rijkaard and his men, and last season Ancelotti's PSG had the same fate when they went up against Barça in the quarter-finals of the Champions League.
Mundo Deportivo speculates with Barça's possible line-up
"Puyol's return and his good performance in El Sadar, and with Piqué recovering from injury, make the captain an unexpected candidate for Barça's starting XI," writes Mundo Deportivo's Joan Josep Pallàs. "He didn't play in the San Siro, so he should be ready for the match. Bartra, who at first glance may not be a favourite to start, also has a chance at being named to the starting XI due to his current excellent form."
The midfield is a bit more complicated. "Cesc on the bench in Milan logically points to a starting spot on Saturday, but nothing is for sure. Andrés Iniesta might be the player to be dropped from the line-up, but the consequences of that decision are complex," writes Pallàs. "In reality, the only player in the midfield who has a secure spot is Sergio Busquets.
"However, there is one unexplored option," continues the journalist, "Cesc could play in the false 9 position up top with Messi and Neymar" as he did in the second half against AC Milan. On the flip side, one of the three remaining forwards not previously mentioned – Alexis, Pedro and Tello – could get the starting spot as well, which would allow Messi to lead Barça's attack and not be pushed out wide.
The bottom line is that Tata Martino has choices to make, which is a good thing because it means that players who were previously unavailable for selection due to injury are now match fit.