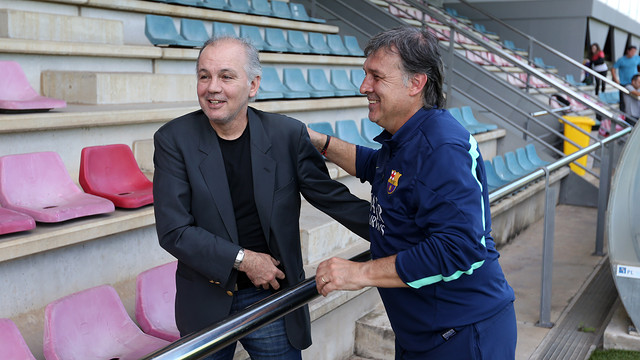 The former Bulgarian striker is worried about Madrid's turn in form but still fancies Barça to win
The Argentinian manager is impressed with what Martino has already achieved
And 'Sonny' Anderson believes Barça have the strongest team in the world

Two former Barça players, the current Argentina manager and one of the stars of the handball team have given their ideas about Saturday's clásico at the Camp Nou. Here we take a look at what Hristo Stoichkov, Alejandro Sabella, 'Sonny' Anderson and Nikola Karabatic have to say about the match.
Hristo Stochkov: "The ground will be packed, but you have to remember that Madrid have just beaten Juventus and have won league games that they had been close to drawing or even losing, so their morale is high. But I think that as long as FC Barcelona stay calm and play well, they can win this".
---
Alejandro Sabella: "Both teams have a new manager, but Barça have started better and have a three-point lead and are playing at home. There are members of my team in both sides, and I am fond of them all. It would seem that the transition has been smoother at Barça and Ancelotti is still trying to find the right team. But clásicos are clásicos and you've got to win them".
---
'Sonny' Anderson: "I think Barça have the best team in the world right now. The whole world stops when Barça play Madrid, it's a game in which you get to see the best football in the world and there's nothing in Europe to compare with it. The classic games in France and Italy and not always between the top two teams, but that is the case with Barça and Madrid".
---
Nikola Karabatic: "There's no game that compares with this one. It's bigger than any of the other so-called clásicos, especially PSG v Marseille. Although the Camp Nou doesn't look that big from outside, it's enormous from the inside. When the fans start singing the anthem, the atmosphere is incredible".