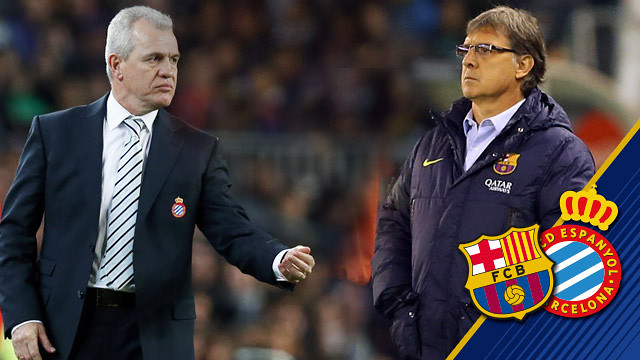 The Mexican manager has a record of 13 defeats, 4 draws and 2 victories against FC Barcelona
The Argentinian manager has experiences similar rivalries when he managed Cerro Porteño and Libertad in Paraguay
Gerardo Martino and Javier Aguirre will face off for the first time ever when FC Barcelona host Espanyol at the Camp Nou on Friday evening. It will be the first city derby for the Barça manager, while the experienced Mexican manager has led Espanyol against the Blaugrana on two occasions.
20th match against Barça
The match this Friday will be Javier Aguirre's 20th against FC Barcelona. When he managed Osasuna he led his men against Barça eight times, with a record of one win, three draws and four defeats. While on the Atlético Madrid bench, he lost to Barça five times (three in the league, two in the Cup), tied once and won once.
Currently, his record against Barça while on the Zaragoza and Espanyol benches is the same: two defeats at the hands of the Blaugrana, and held goalless in all four matches.
It's worth noting that last year's derbies ended in 4-0 at the Camp Nou and 0-2 at Cornellà-El Prat. In total, Aguirre defeated Barça twice, tied four times and lost to FC Barcelona 13 times.
Similar derbies for Martino
This will be Martino's first match against Espanoyl. The Argentinian manager, however, has experienced similar rivalries when he managed in Paraguay. He managed his team in a dozen Clásicos blanco y negros against Olimpia when he was on the Libertad bench (in 2002, 2003 and 2006). He also led Cerro Porteño in derbies against Nacional in 2004. His record in derbies with both teams is fairly positive.