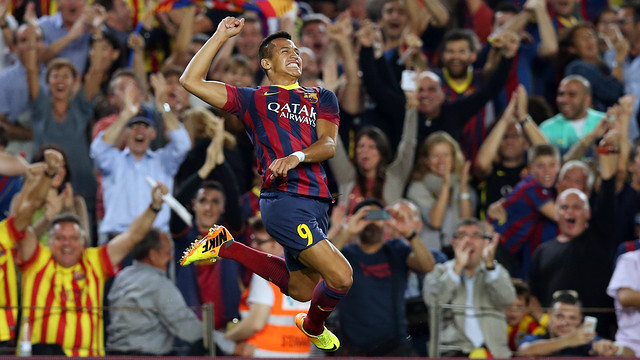 With his goal against Madrid, Alexis has joined an exclusive club of Barça players who have scored memorable goals by chipping the goalkeeper
Maradona, Koeman, Romario and Rivaldo scored similar goals in their Barça careers
Alexis Sánchez has ensured his place in the history of the 'clásicos' with a beautiful chip in the 76th minute from outside the area that sailed gracefully over a helpless Diego López in the Real Madrid goal. A superb goal that follows in the footsteps of some illustrious Barça players.
Maradona masterpiece in Belgrade
Probably the most famous chipped goal in the history of the Club. It was the first leg of the last 16 of the Cup Winners Cup against Red Star. Barça won 2-4 but the goal of the match was Maradona's chip over goalkeeper Stojanovic.
Koeman double chip
Almost a decade later, but also in the Cup Winners Cup (90/91), Ronald Koeman produced a superb double chip to go past first the defence and then the goalkeeper. In a stunning 7-2 defeat of Trabzonspor, Koeman's delightful skill remains the highlight of the match.
Romario the specialist
In the short time that Romario spent at Barça he proved to be an expert in this type of goal. In his league debut against Real Sociedad, he produced his first chipped goal. Then in the 93/94 season, he beat Unanua (Osasuna) and Abel (Atlético Madrid) in the same way. One of his last goals for Barça was, of course, a chip – also against Atlético.
Rivaldo the virtuoso
Rivaldo, another of the many virtuosos that have delighted the Camp Nou, scored what is possibly the most similar goal to Alexis. It was against Rayo in the 2000/01 season. In the 51st minute, Rivaldo received the ball from Guardiola and beat the keeper with a delicate left foot chip.