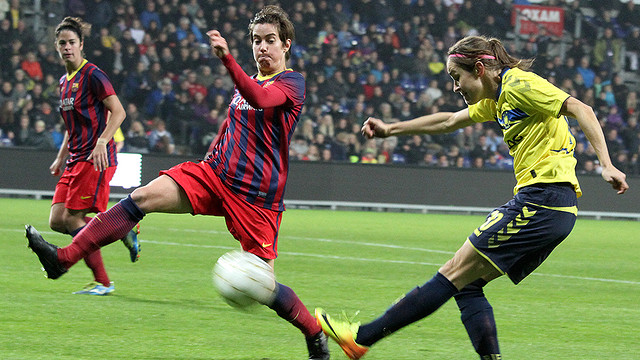 The Blaugrana qualify for the Round of 16 of the UEFA Women's Champions League thanks to this evening's 2-2 scoreline away to Brondby
A goal from Marta Corredera at the start of the second half and another from Jelena at the end of the match were enough for Xavi Llorens' women to clinch a spot in the next round of the continental competition
MATCH FACTS
Brondby, 2
FC Barcelona, 2
Brondby IF: Olsson, Jensen (Kragh 73)', Olsen, Nielsen, Bukh, Brogaard, Larsen S., Nielsen, Orntoft, Thorsen (Sorensen 63') and Madsen (Norstedt 84').
FC Barcelona: Ràfols, Unzué, Torrejón, Ruth, Melani (Laura 64'), Virginia, Corredera, Míriam, Vicky, Soni (Kenti 90') and Alèxia (Jelena 64').
Goals: 1-0, Thorsen (25'); 1-1, Corredera (52'); 1-2, Jelena (87'); 2-2, Sorensen (94').
Referee: Cristina Dorcioman.
FC Barcelona's Women's Team took a giant step forward in Europe this evening when they clinched a spot in the Round of 16 of the UEFA Women's Champions League. History was written this October 16 by Xavi Llorens' players when they managed to get a two-all draw away to Brondby, and thus qualify for the first time in Club history for the next round of the competition.
The team's fantastic second half allowed them to fight back from Thorsen's first-half strike. After the break Llorens' women came out swinging and Marta Corredera scored the tying goal on 51 minutes. The Serbian, Jelena, gave Barça the lead on the 88th minute after a fantastic counterattack. In the last minute of the match, Sorensen scored the definitive 2-2.