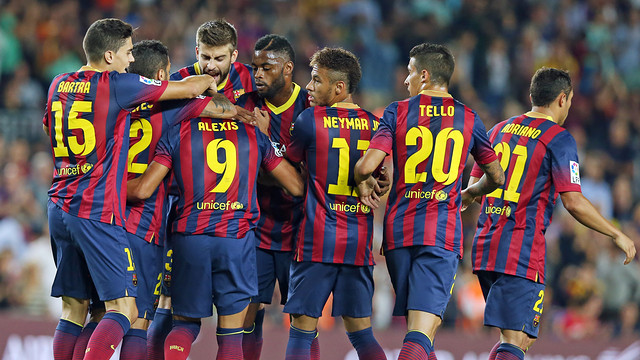 Sensational second half comeback gives Barça their eighth straight league win
Alexis (2), Xavi and Neymar turned the result round after Valladolid's opener
Barça made it eight out of eight in their record breaking start to the league season with a 4-1 win over Valladolid at the Camp Nou tonight. Valladolid set a different task for Barça with an early strike and although Martino's side soon equalised, it wasn't until the second half that they finished the game off, with an unstoppable Neymar leading the fightback.
Alexis equalises
With Busquets and Iniesta rested and Messi out injured, Neymar took on the false number nine role and with three corners in the first 5 minutes, Barça were soon showing their typical dominance. Ironically, it was a Valladolid corner that created the first goal, with Javi Guerra giving them a shock lead on 10 minutes. Soon after, an Alexis shot from outside the box after a charging run from Bartra, drew the scores level and then the game really opened up with Barça's superior skill giving them a clear edge.
Tight call
Valladolid were happy to soak up the pressure though, hitting Barça with pacey counters and finding plenty of space which called on the Barça centre backs to show some speedy defending. Barça weren't enjoying complete control, but they were still creating plenty of chances, with Cesc on 26 minutes putting Neymar through on the keeper, who managed to keep the Brazilian out. Soon after, Neymar was again one on one with the keeper, only for Peña to bring him down, but the ref waived any appeals away with the Valladolid defender facing a red card and his team a penalty.
Neymar show
With the crowd clearly frustrated at the ref's decision, the atmosphere was heating up, but after the break it was back to normal service, as Barça laid siege to the Valladolid area and Xavi put them ahead on 51 minutes after Neymar had dribbled through a host of players in the centre and then slipping the ball wide for Tello, whose cross was superbly met by the Catalan midfielder. Neymar now upped his game and began to show the whole range of skills. Barça were growing stronger, whilst Valladolid were paying the cost for their first half efforts and wilting under the Barça pressure.
Neymar all over the pitch
Tello hit the bar on 63 minutes, before Alexis got his second – set up by Neymar, who seemed to be everywhere and the Chilean showed great generosity in laying on Neymar for the fourth. Busquets came on at centre half for Piqué and Iniesta and Pedro also made appearances as Barça took over completely and Neymar had another good shout for a penalty turned down
The win means that Barça go into the international break with 24 points – eight wins from eight – and a great feeling following a brilliant comeback tonight.