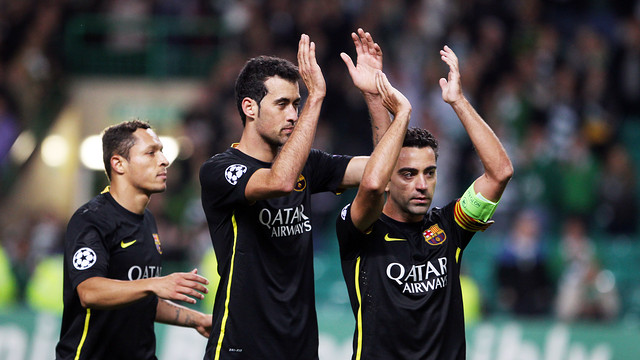 FC Barcelona kept yet another clean sheet at Celtic Park, the seventh in the eleven competitive games so far this season
Celtic crowd applauds Iniesta
Andres Iniesta was replaced in the 89th minute by Song and received a standing ovation from the Scottish fans as he left the pitch. A pretty common sight here in La Liga but not so frequent in Europe.
• FC Barcelona kept yet another clean sheet at Celtic Park, the seventh in the eleven competitive games so far this season. A good part of the credit must go to Valdés, who produced another fine performance.
---
• It was Barça's first away win in Europe since they beat Spartak Moscow 0-3 on 20th November 2012. In the meantime, they've lost against Milan (2-0), drawn against PSG in Paris (1-1) and lost to Bayern in Munich (4-0).
---
• Barça enjoyed an astonishing 82% 0f the possession in the first half and 79% over the 90 minutes.
---
• Piqué (14) and Bartra (11) topped the Barça ranking for balls recovered.
---
• In Scotland, Song and Tello got their first taste of this season's Champions League.
---
• It was Sergio Busquets' 50th Champions League appearance. His debut in the competition came on 22nd October 2010 away to Basle, when he also scored his first senior goal (0-5).
---
• Cesc, Busquets and Alexis each picked up a yellow card, the first of Barça's European campaign.
---
• Valdés and Piqué have featured in the starting line-up in every match so far this season. But Valdés is the only player not to have missed a single minute (a total of 990 minutes).
---
• Cesc has now scored three Champions League goals for Barça. As well as Celtic, he scored against Viktoria Plzen and Benfica.
---
• Four of Barça's five goals in the Champions League this season have come in the second half. Three of those goals were scored between the 60th and 75th minute.
---
• Barça have scored 30 goals in 11 matches this season, an average of 2.72 goals per match.
---
• Alves has now overtaken Koeman in third place in the ranking of foreign players with the most appearances for Barça (265). Ahead of him are Messi (388) and Cocu (292).