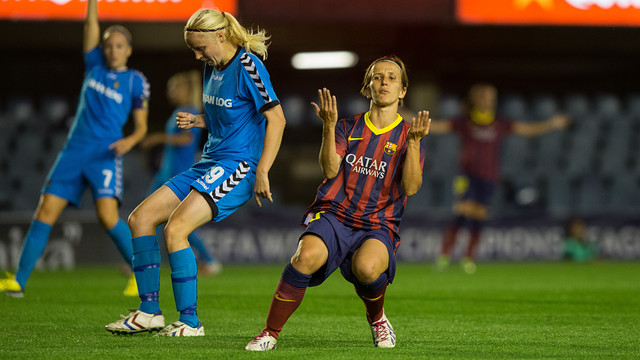 Barça and Brondby draw at the Miniestadi in the first leg of the round of 32 of the UEFA Women's Champions League
MATCH FACTS
FC BARCELONA, 0
BRONDBY, 0
FC Barcelona: Ràfols, Marta, Melanie, Miriam, Vicky, Soni, Corredera, Ruth, Alexia, Virginia and Marta.
Brondby: Olsson, Jensen, Olsen, Nielsen, Bukh, Brogaard, Larsen, Nielsen, Orntoft (Ringsing, min 90), Madsen (Sorensen, min 72) i Kragh (Thorsen, min 66).
The FCB Women's team kicked off its second bid for the Champions League with a goalless draw against Brondby. The match played at the Miniestadi was very intense and it offered up a game full of excellent displays of skill. The women managed by Xavi Llorens deserved a goal in the second half, but Olsson defended her goal well. The second leg will be played on Wednesday, October 16.
The first half was saw the Catlans and the Danes battle it out for the opening goal. The home team started off strong as they controlled possession and the flow of the match. On the 3rd minute, Alexia's header went just wide of goal. Little by little, however, Brondby fought back. Very strong physically and dangerous in the air, Brondby managed to push Barça back into their own half.
Olsson saves Brondby
The second half saw a more aggressive Barça. Miriam and Vicky Losada took control of the midfield and Olsson put up two fantastic saves to deny Sonia. Barça's attack was coming from the right, where Corredera consistently beat her mark. Barça pushed and, at the same time, ran risks at the back. The role the defenders had to play was crucial.
The Danish manager was forced to bolster his defence in an attempt to stave off Barça's attack. That, and especially fatigue, was what got to Barça in the dying minutes of the match. The first UEFA Women's Champions League goal for Barça will have to wait.