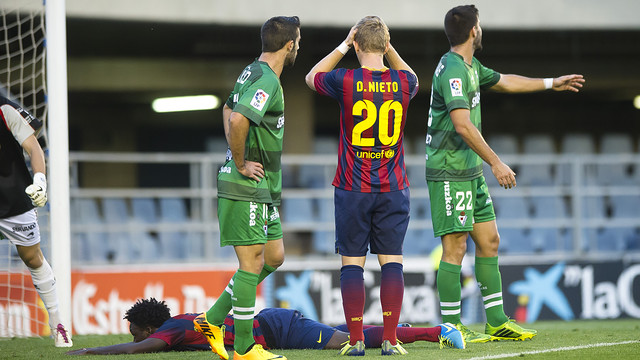 After last week's win on the road, Barça B were defeated at home by Eibar
MATCH FACTS
FC BARCELONA B, 0
EIBAR, 2
FC Barcelona B: Masip, Patric, Sergi Gomez, Bagnack, Planas, Ilie (Samper, min 61), Bedia, Denis Suárez, Espinosa (Joan Roman, min 66), Sandro (Dongou, min 19) and Nieto.
Eibar: Irureta, Albentosa, Capa, Arruabarrena, Eizmendi (Gilvan, min 77), Dani García (Errasti, min 80), Yuri, Lillo, Morales (Kijera, min 86), Rivas and Raúl Navas.
Goals: 0-1 Eizmendi (min 56), 0-2 Morales (min 82)
Barça B picked up their third consecutive defeat at home this Sunday as Eibar fired for two unanswered goals. Eusebio's men struggled to find the form that led them to victory in Mendizorroza last week as the visiting side employed a strong, physical approach that hampered Barça's free-flowing style of play. A pivotal play, which led to Eibar's opener and a Barça player ejected, decided the match.
Difficult start
Barça B were not comfortable against a very organised rival that constantly created chances through set pieces and counterattacks. On 14 minutes, Morales found himself in front of Masip, but Ilie intercepted just in time to deflect the shot into the woodwork. The Basque side shifted their focus to the left flank, but Bagnack did well to avert any danger as his defensive performance was nearly impeccable.
Penalty to the woodwork
Eusebio's men breathed easier when the ball was at the feet of the team's creative players. However, Espinosa, Denis Suárez and Edu Bedia still found it difficult to link up with Dongou – who came in for the injured Sandro on the 17th minute – and Dani Nieto. On the 43rd minute, Patric conceded a clear penalty and Arruabarrena took the shot a la 'Panenka,' but his attempt hit the crossbar. Barça B reacted immediately and created two consecutive chances, but both were denied.
Double blow
After the break, Barça B slowly took control of the match, but against the flow of play, Eizmendi scored the opener as he headed the ball to the far post on 56 minutes. Minutes later, Patric was ejected as he committed his second bookable offense. Things weren't looking good for Eusebio's men.
Eibar get their second
Despite being down a man, the reserve side pinned the visitors back and laid siege to Irureta's goal. Eusebio urged his men forward, but Eibar's defence stood firm. On the 82nd minute, Morales finished off a quick counterattack to score the definitive 0-2.