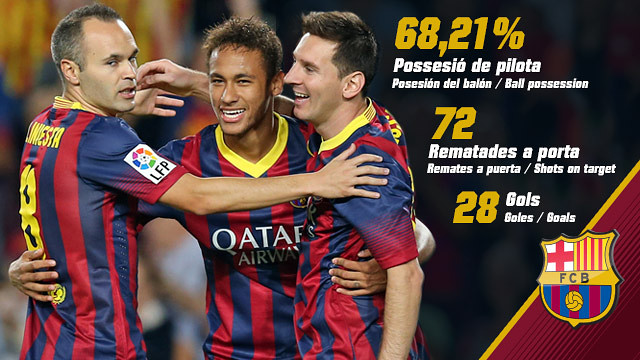 FCB are top in possession, goals and shots on target
The Catalans also have the fewest yellow cards
And three Barça players (Xavi, Piqué and Iniesta) are among the top five passers
Although they are still sharing the lead with Atlético Madrid in the only category that ultimately counts, points won, FC Barcelona are top in just about every major statistical category in the Spanish Championship. Here we take a look at some of the most important.
TOP IN POSSESSION: With 68.21%, FC Barcelona are far and away the top club when it comes to holding onto the ball. Next on the list are Rayo Vallecano (62.89%), Real Madrid (61.93%) and Celta Vigo (53.33%).
---
TOP IN GOALS: Nobody can match Barça's 28 goals in the first eight league matches. Atlético Madrid (21 goals) and Real Madrid (17) are the main chasers.
---
TOP IN SHOTS ON TARGET: Barça have made 72 shots on target so far, a considerably better tally than second ranked Real Madrid (61) and Atlético Madrid (54) in third. Barça are second in overall attempts, 116, behind only Real Madrid (129), who despite taking more shots have hit the target far fewer times.
---
TOP IN DISCIPLINE: Barça players have also been booked less than any others, with just 11 yellow cards and no reds at all to date. At the other extreme we find Sevilla (30 yellows) and Rayo Vallecano (three reds). Barça have also committed fewer fouls (93) than any club in La Liga apart from Athletic Bilbao (80), and have been on the receiving end of more fouls (127) than everybody except Villarreal (128).
---
XAVI TOP IN PASSES: The top flight player to have made the most passes is Xavi Hernández, with 639, a huge 50 more than second-placed Trashorras (Rayo), perhaps not coincidentally a former Barça player. In third place we find Gerard Piqué (465) and fifth place goes to Andrés Iniesta (437). Xavi's effectiveness is simply extraordinary. A colossal 93.3% of his passes have found their target.