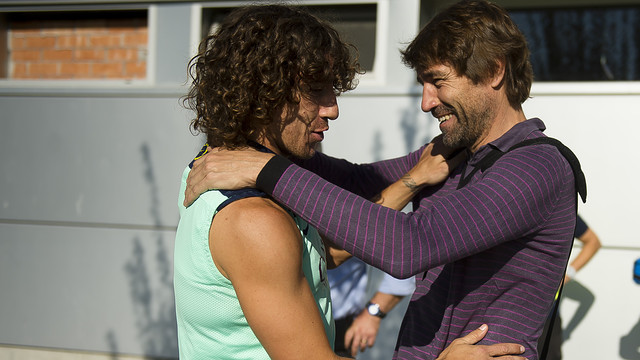 "Barça have a great team and a great squad"
Martino "has given the team more depth and directness" to Barça, who maintain their unique style of play.

Julio Salinas spoke to Barça TV and fcbarcelona today and he reckons Barça are looking really strong this season: "they are on song right now. They've beaten the Club record at the start of the season and are closing in on the whole league record, though Atletico Madrid will be a tough rival. We all demand a lot from Barça and they've set the bar really high so that it's not enough just to win 4-0, they've got to play at a high level and show no weaknesses at all".
Present and future
Salinas believes Barça· have a great team and a great bunch of players ready to come through – it's a squad for the present and also for the future. Neymar Jr can bring some great things to the team and I think the fans are getting the chance to see the five or six best players in the world here". As to the question of Barça's style of play, Salinas was adamant: "that will never change. Barça have a clear way of playing the game and that will never change because it is instilled in the Club at all levels".
"Martino has made a good start"
The ex-Barça striker also gave the thumbs up to new boss Tata Martino, claiming "he has given the team a bit more depth and he tries to get them to get forward quicker if the other team is caught off guard. He's made a good start and shown intelligence and humility, allowing the real protagonists to take the limelight".
Sant Andreu – a good sparring partner
Salinas's brother Patxi figured for Sant Andreu in this morning's practice match and Julio explained: "it's a nice thing for the Sant Andreu players, who aren't so used to playing on such a great surface – they proved a good sparring partner for Barça, who need players like Pujol to get some game time in to reach 100% fitness".
Julio Salinas veu el FC Barcelona molt fort. "Veig el Barça de cine. De moment ha superat el seu rècord personal i està a punt de superar el rècord de la Lliga del Madrid, tot i que també té un dur rival en l'Atlètic de Madrid", ha explicat a Barça TV i fcbarcelona.cat. "Exigim molt al Barça i el llistó està molt alt, ja que no val guanyar per 4-0, sinó que fins i tot cal jugar a un grandíssim nivell i no transmetre febleses", creu l'exdavanter blaugrana.
Present i futur
Per Salinas, el Barça disposa d'"un gran equip que té un gran planter al seu darrere". És una plantilla amb present i futur. "Neymar Jr pot aportar grans coses i crec que la gent pot gaudir de 5 o 6 dels 10 millors jugadors del món", ha assegurat. Preguntat sobre l'estil de joc, crec que "no canviarà mai". "El Barça té l'estil de joc definit i això no canviarà mai, perquè es juga així des de la base", ha detallat.
"Martino ha entrat amb bon peu"
Sobre el Tata Martino, ha afirmat que "ha donat una mica de profunditat a l'equip, intenta buscar la verticalitat si el rival es despista". Salinas creu que el nou tècnic "ha entrat amb bon peu al Club, sent intel·ligent i amb humilitat, donant protagonisme als que ho mereixen".
El Sant Andreu, un bon 'sparring'
Aquest dijous, el Sant Andreu de Patxi Salinas, germà de Julio, ha fet un partit d'entrenament contra el FC Barcelona. "És un bon premi per als jugadors del Sant Andreu, que no estan acostumats a jugar sobre una gespa així", ha explicat l'exblaugrana. "Per al Barça el Sant Andreu és un bon 'sparring', perquè hi ha jugadors com Puyol que necessiten minuts per posar-se al 100%", ha conclòs.