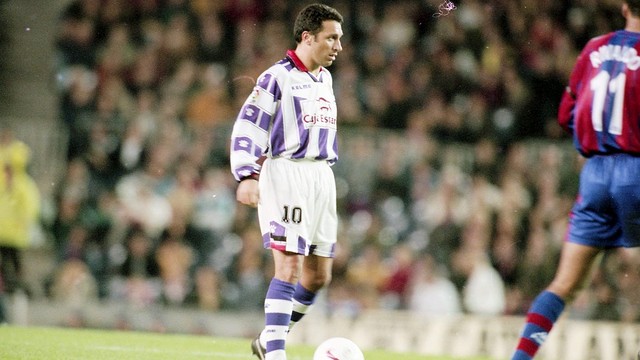 A free kick converted by the Barça B manager gave the visitors a 2-1 win at the Camo Nou in 1997
"I couldn't celebrate it. I have always had huge respect for the Barça fans", he admits
Despite the loss, Louis Van Gaal still went on to lead the team to the league title
It is almost sixteen years since Valladolid last won at the Camp Nou. That was on November 9, 1997, in the tenth game of the Liga season. It ended 2-1, the first home defeat ever for FCB under Van Gaal with such players as Luis Enrique, Rivaldo and Figo in the team. But the hero that day was another Barça legend: Eusebio Sacristán, the current Barça B manager, but who at the time was playing for the visitors.
Perfect free kick
It was the 10th minute when Valladolid got a foul on the edge of the area. Eusebio Sacristán, who always had a good touch, slotted the ball way beyond reach of goalkeeper Hesp. "I remember it was a good free kick over the wall that made it 1-0", said Barça's current reserve team manager.[[CITA_1]]
That 1997/98 season was the one when Eusebio went home to the club he had played at before going to Atlético Madrid and later Barça. He was at the Camp Nou for seven years from 1988 to 1995, before joining Celta for two seasons. "It was always emotional for me to return to the Camp Nou" he remembers. "Something inside told me not to celebrate that goal. I have always had huge respect for the Barça fans".
Good all round
The game ended badly for Barça, with Peternac making it 2-0 and Pizzi's strike coming too late. But the Catalans went on to win the league regardless, and Valladolid finished in a solid eleventh place. "The season ended well for us both", he smiles.
Eusebio played 20 league games against FC Barcelona. But this was one of only two he won, the other being for Celta at Balaídos, and his only victory at the Camp Nou.
Unbeaten in sixteen years
Barça and Valladolid have had ten meetings at the Camp Nou since then, and the balance is strong for Barça, with seven wins and three draws. The last four encounters have all been home wins.
It is always emotional for me to return to the Camp Nou