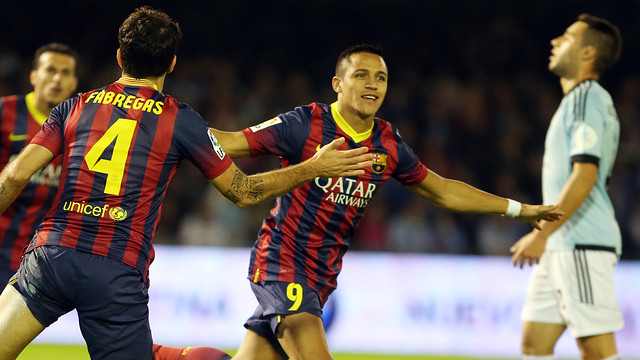 Barça have defeated a daring Celta side to continue their unbeaten run in the league
The in-form Alexis, goalkeeper Yoel (og) and Cesc got the goals
31 out of 33. Barça stay top of the league after defeating a valiant Celta side at Balaídos. Even without players of the calibre of Piqué, Xavi, Iniesta and Neymar, Barça were fantastic right from the start, with Alexis finding the target once again to put his side into the lead. An own goal and another from Cesc eventually made it 3-0, which was a severe blow for Celta manager Luis Enrique and other familiar faces in Fontàs, Rafinha and Nolito, who had taken a daring approach to the game but were ultimately thwarted by a technically superior side.
Alexis continues form
Following the exertions of the clásico, Tata Martino decided to make changes to his eleven, the most significant being Alex Song getting to start instead of Busquets. Celta, meanwhile, pushed their defensive line right up the field and decided that they were going to try to dictate the game. They are to be admired for their ambition, but were punished for it. Barça made the most of their first real chance, after eight minutes. Cesc won the ball and threaded it through to put Pedro one-on-one with Yoel. The goalkeeper parried the shot away, but the Chilean was waiting to convert the rebound and continue his excellent goalscoring form.
Direct approach
Shortly after, Alexis almost made it two with a header at the far post, but Yoel just managed to get a foot in the way. Messi almost scored on 22 minutes following a trademark individual run, while for the home side, Rafinha delivered two powerful left-footed strikes, one that failed to find the target and the other brilliantly saved by Valdés, who was posting yet another top notch performance. The downside to the half was Adriano being substituted as a precautionary measure after taking a knock, his place being taken by Montoya.
A highly active Messi never stopped looking for a goal of his own. It was end to end stuff, with Barça uncharacteristically abandoning their possession game and employing a far more direct approach, thus meaning that their technical superiority was less apparent than usual.
Cesc makes his mark
This might not have been their greatest of performances, but we still saw plenty of effort and efficacy from FC Barcelona. After the break, for a while it looked like Celta might be able to get back into the game, but two killer blows from Cesc Fàbregas soon put paid to that. First a terrific long range strike hit the Celta bar but bounced off Yoel's back and into the net. And just moments later, a quick transition led by Messi ended with Cesc rifling home the goal that made it 3-0 and as good as sentenced the match.
Maximum competitiveness
In just six minutes (from the 48th to the 54th), Barça had made sure of three points that had been in danger of slipping away. But the Galicians didn't let their heads drop or change their gameplan to one of damage limitation. Nolito sent a free kick onto the bar, with Pedro responding soon after with a shot that skimmed just wide of the post. Bringing on Iniesta on the eleventh anniversary of his debut seemed to calm the storm, which was just what Barça needed. But despite the pace of the game slowing, Messi still went off in search of further goals, and would have got them had Yoel not been on such inspired form. Even in injury time, with the result more than decided, the Argentinian was still battling 100 per cent in a further example of his incredible fighting spirit.