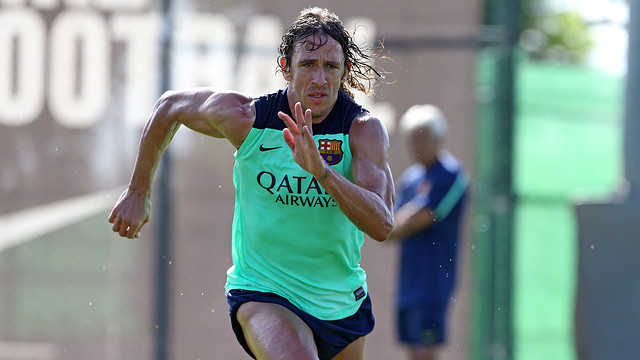 The FC Barcelona captain hasn't played an official first team match since March 12, the night of the comeback against AC Milan (4-0)
During this time, he has undergone arthroscopy for articular cleansing of his right knee and has also had a Baker's cyst removed
Carles Puyol has been declared fit this Friday. His recovery has taken 220 days (seven months and one week), his last first team appearance being the dramatic comeback against AC Milan at the Camp Nou (4-0) on March 12, 2013. During this long absence, he has undergone arthroscopy for articular cleansing of his right knee as well as surgery to remove a Baker's cyst from the same knee.
Out for 27 games
Puyol has been absent for 27 official matches – the last 15 of last season and the 12 played so far in the present campaign. On September 13, he was able to join in with training for the first time, and on the 26th he completed his first full session with the rest of the squad.
Since then, the Barça captain has worked hard for 22 days to get back into peak condition for his return to duty, and on October 10 was able to play in a training match against Sant Andreu (4-1).
On Friday he has finally been named back in the squad for the game with Osasuna. All that hard work has finally been rewarded. Puyol is back.