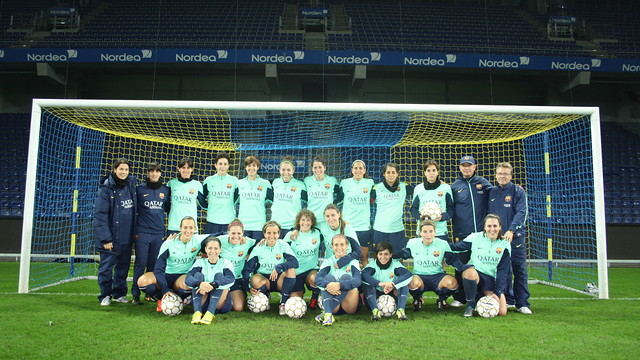 Brondby and Barça meet tonight in the Brondby Stadium (18:30) to see who goes into the second round of the UEFA Women's Champions League
The 0-0 draw in the first leg has left things wide open as the Danes look to make good of their home advantage and greater physicality against the more skilful FCB side
Tonight, Wednesday October 16, at 18:30, Barça's ladies team will be looking to make history against Brondby, where a large crowd is expected for what promises to be a battle between physicality and skill.
The sides are vying for a place in the last sixteen of the UEFA Women's Champions League. The goalless draw in the Mini means that unless FCB score, the best they can hope for is a penalty shootout.
"We can't wait for the game to start and get this tie back under way. Because of the mood in the camp and what we showed in the first leg, we believe we can do it", said manager Xavi Llorens.
Maximum concentration
He continued by saying that "we have analysed the things we got right and what we didn't get quite so right. We need maximum concentration, to be careful in defence and to take our chances up front. It's essential for us to be patient. I hope things work out for us."
"These European teams are very different when they play at home. We expect a tougher game, faster, more aggressive and more intense."
Champions League atmosphere
Barça will be enjoying a wonderful football atmosphere in Copenhagen, where Brondby are expecting something in the region of 4,000 spectators.
"We are thoroughly looking forward to playing in a nice stadium. I hope lots of people come. We won the league at San Mamés in front of 30,000 people and the atmosphere made us play better. The more fans there are, the more motivated the team is, even when they are fans of the opposing team" said Xavi Llorens.
Barça are in this competition for the second time in club history, after going out to Arsenal in the first round last season.