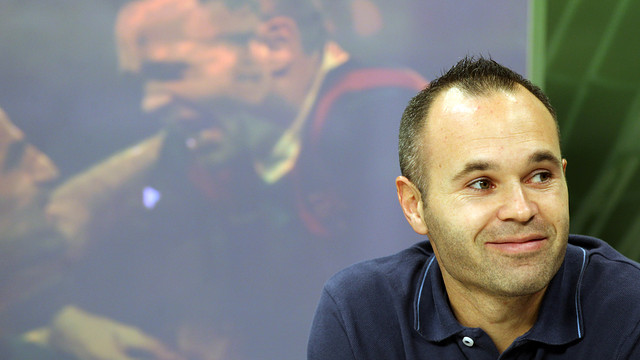 Iniesta admitted that the victory against Real Madrid is not "definitive" but insisted that it's "a big boost to our motivation"
"Anything can happen in a 'clásico' and the home advantage is often very important because you feel more comfortable".

Andrés Iniesta was the guest on Barça TV's 'El Marcador' after last evening's match and told fans that the win would not have a definitive effect on the title race but was certainly a boost to morale. "At this stage of the season it's not definitive as there's a long way to go. It's true that this kind of match has something extra, an extra motivation. On Tuesday there are another three points in play and if we don't win that match, what we have done against Madrid won't mean anything. We have to enjoy it and savour it, and then from Monday think about Vigo". [[CITA_1]]
Iniesta admitted that Real Madrid tried to fight back after the opening goal: "They were losing and that means you're not afraid to go forward". "In the end we took advantage of the second goal, scored by Alexis, and the points stayed at home". "Anything can happen when FC Barcelona and Real Madrid meet because they're both great teams with great players. The home advantage is often very important because you feel more comfortable. But in the end it's a question of being better than them". [[CITA_2]]
Iniesta set up Neymar for the opening goal of the evening and was full of praise for the two goal scorers, Neymar and Alexis. "I'm pleased for Alexis and for the team…Neymar is a talented player". His ability to take on and go past defenders creates space for the team which has to be used – "we have to be intelligent".
Iniesta has played in plenty of matches against Real Madrid in the eleven years since he made his debut and told Barça TV: "Until a few years ago, the 'clásicos' were tranquil affairs and I think they'll be like that from now on".
Iniesta knows that the team still has a lot to improve: "We still have to hit top form; otherwise we wouldn't be in the running for titles. The team has to keep on improving over the season". "We were up against Real Madrid and I don't think we should drive ourselves crazy just because they created a few chances. That's the most normal thing in the world". We have to take the positives and analyze the not so positives so they don't happen again".
It's true that this kind of match has something extra, an extra motivation
The home advantage is often very important because you feel more comfortable