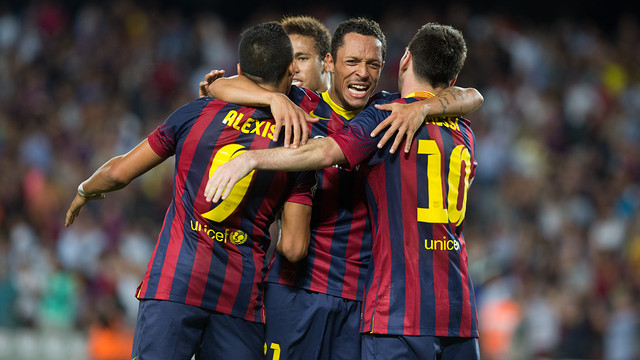 With Jordi Alba injured, the Brazilian has enjoyed an extended run in the first team and he's determined to "keep working hard so that the boss knows he can count on me".
Adriano also believes his fitness issues are behind him : "I'm just focused on playing now"

Adriano has been one of the players most used by Tata Martino at the start of this campaign – having started the last seven games and already bagged two goals – and in an exclusive interview with BarçaTV and fcbarcelona.cat [[CITA_1]] he explained, "I'm really enjoying things right now, physically, I am right at my best. I want to keep on working hard so that the boss knows he can count on me".
After coming on for the injured Jordi Alba after a quarter of an hour of the game against Seville, Adriano has put in six straight starts at left back and he admitted: "Jordi's injury has given me the opportunity to get a run in the first team" and with Alba picking up another injury in training on Thursday, it looks as if the Brazilian could be in for an extended run. [CITA_2]] Since he joined the Club in 2010, Adriano has been unlucky with injuries himself, but now: "I've overcome the doubts I had as to whether I could put in two games on the run without feeling some twinge or other. I feel I've left all that behind me now and I with the confidence that gives me, I really feel god at the moment".
Adriano also stressed that: "on the pitch I am just focussed on playing and I'm not worrying about if I feel a twinge here or there, or if I can get through the game. That has really taken a big effort".
I want to keep on working hard so that the boss knows he can count on me
I'm not worrying about if I feel a twinge here or there, or if I can get through the game. That has really taken a big effort