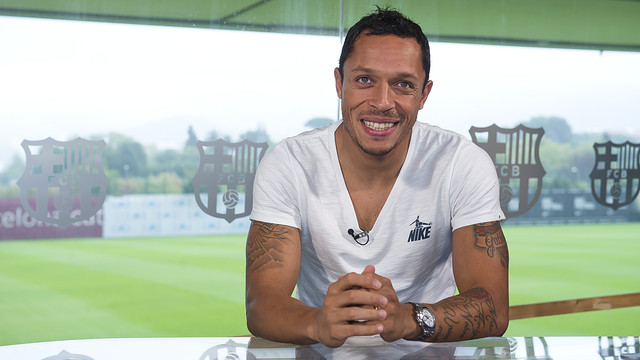 The Brazilian feels the team needs to be patient and learn how to control matches better in future games
In this interview, he also agrees that "rotations are good for both the team and for us the players"

Adriano Correia has looked back at the season so far and feels that Tata Martino has intensified the team's desire "to create pressure and win balls from our opponents". Speaking to Barça TV and the club website, he also spoke about Neymar's adaptation and Puyol's imminent return.
What is the team lacking to get back to its finest level?
We are happy with the way the season has gone, but we also know there is a long way to go yet and we have to improve. We have won games, we have drawn games, and in some games teams have almost fought back against us. We have to get better at controlling games, but we've improved a lot at that recently.
You now have five games in thirteen days. How important do you think this period will be for your season as a whole?
It is very important for us to continue our form through to Christmas, so that we can have some good rest and then come back and start doing the same thing all over again. We know how important it is to take each game at a time and the next one is against Osasuna.
It's a cliché, but it's true, right?
It might be a cliché, but you have to think like that or you'll slip up, and it's in games like those that you can drop points that end up costing you the league.
Clásicos are always motivational, but after last season, is this year's edition even more special than usual?
Without a doubt. We want this year to be different. We know that we are physically better than them at the moment, and we have clearer ideas and more desire.
What will Tata Martino contribute?
He's making us believe in ourselves again. We are keen to create pressure again and it's very important for him to get us winning balls back. I think he's working on these things so we can believe we can win another European Cup, and this season we are out to win another treble.
Footballers always want to play, so how are you coping with the rotation system?
We're fine, We all want to play but we also see things a different way, and that benefits not just the team but also ourselves as individuals.
Have you been surprised at how well Neymar has fitted in?
Those of us that knew him knew he'd be his same simple, humble self here. Everybody likes him. He's settled in here and you can see that he's feeling freer on the pitch, he's more confident. He knew how to deal with it all. There's a hierarchy in the team and he knows he has to respect that. But on the pitch he just does the best he can.
Do you think we'll ever see Puyol back at his best?
He's looking forward to playing again and hopefully he'll be as good as ever. He has set standards for the whole team to follow, because of who he is and the way he does things and leads people. He sets an example for younger players, and so I hope we'll be seeing many more years of "Puyi".