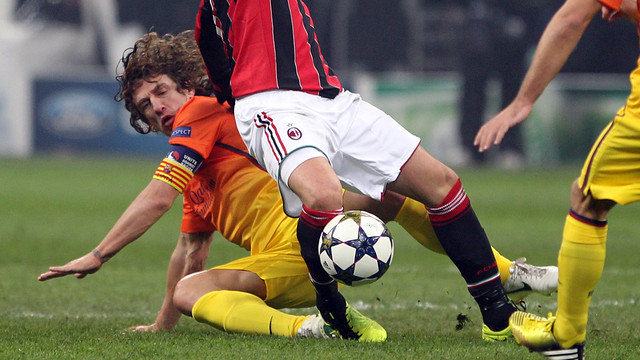 20.45 h, TVE1 and TV3: Barça return to the San Siro four days before hosting Real Madrid
FC Barcelona's big week features two top-shelf matches: the first Italy against Milan and the second at the Camp Nou against Madrid. First things first, however, as Barça focus on their match this evening. It's an attractive game that will pit two European football giants against each other in the group stage of the Champions League.
The San Siro is a very well known stadium to the Barça players. It will be the team's sixth visit to the stadium in five seasons (two against Inter and four against AC Milan). The most recent match at the San Siro took place last season, when the home team won by 2-0 in the first leg of the round of 16 of the Champions League. Barça fought back at the Camp Nou to take a place in the quarter finals two weeks later (4-0). Of their last five visits, Barça have only been able to win once, in the 2011/13 season (2-3).
Barça sit atop their group with six points from two matches. Milan are second with four, while Ajax and Celtic have one point and zero, respectively. Therefore, the outcome of this evening's match will be decisive in determining which team will finish top of the group.
Martino has a lot of options
The team managed by Tata Martino come into this evening's match with nearly every player declared match fit, the only exceptions are Jordi Alba and Afellay. Therefore, the manager has many options to choose from when it comes time to name the starting line-up. Both Carles Puyol and Leo Messi, both of whom were received the medical all-clear late last week, could feature against Milan.
Balotelli in a race against time
Milan, on the other hand, come into this evening's match with doubts about Mario Balotelli's fitness. The Italian, however, was named to the team by manager Massimiliano Allegri. However, the player who certainly won't feature against Barça tonight is Milan's keeper, Christian Abbiati. The Rossoneri – who have lost powerful players over the last two seasons like Ibrahimovic, Thiago Silva and Boateng – haven't had the best of starts to their season. But at home, Milan are always a threat.