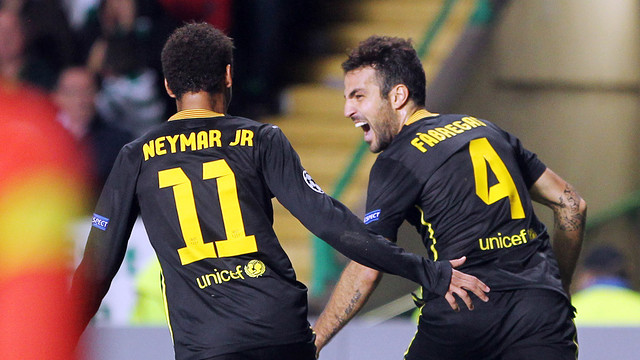 Cesc goal gives Barça the win, a year on from last season's defeat
Cesc Fàbregas said before this game that the team had learnt their lesson from last season, when Celtic beat them 2-1 despite Barça dominating possession and this Tuesday night's game showed how true those words were as Cesc's second half goal rounded off a dominant performance to give Martino's side a 0-1 win against a Celtic side reduced to 10 men after Brown's red card.
The win in Glasgow, together with Milan's 1-1 draw in Amsterdam against Ajax means Barça stay top of Group H and look favourites to progress to the knock out stages.
Dominating possession
It was clear from the start how the game was going to pan out, with Celtic not even touching the ball for the first two minutes, as they sat back and waited whilst Barça – with virtually all their players in their hosts' half, made the ball their own. Barça patiently probed and looked to open up the flanks through Neymar Jr and the advanced Adriano and it was from the wings that their best chances arose.
Neymar goes close
Unfortunately, those chances were few and far between and not until five minutes before the break did their first real opportunity come along, when Neymar, who was becoming more active as the half went along, hit an effort wide from an Alves cross out on the right. The most positive aspect of the first 45 minutes though, was that Barça had succeeded in blunting the threat from Celtic's more direct approach, with the Scottish champions failing to make a single chance in the first half.
Red for Brown
After the break, Celtic pushed forward more and the stuttering nature of the game, full of fouls and stops in the flow of the match, was clearly not to Barça's liking. Then, Neymar came up with a great move down the left which Brown could only stop with a nasty looking foul and a further kick when the Brazilian was on the ground that brought him a straight red and reduced Celtic to ten men with half an hour to go.
Valdés and Cesc prove decisive
Now Barça began to assert themselves, with Neymar a constant threat and Celtic more and more forced into a physical response to the visitors' skilful control. However, just when Barça looked most likely to open the scoring, it was Valdes, at the other end, who was called upon to save the day with a brilliant stop from Forrest from a corner. Mulgrew then had a great chance to give Celtic the lead, only for his close-range header to go wide .
Barça weren't to be denied though and just two minutes after Mukgrew's miss, Neymar released Alexis, who'd just come on for Pedro, and the Chilean crossed for Cesc to head home the winner. As the clock ticked down, Barça held onto possession and only some top class keeping from Forster kept Neymar and Alexis from adding to the score.