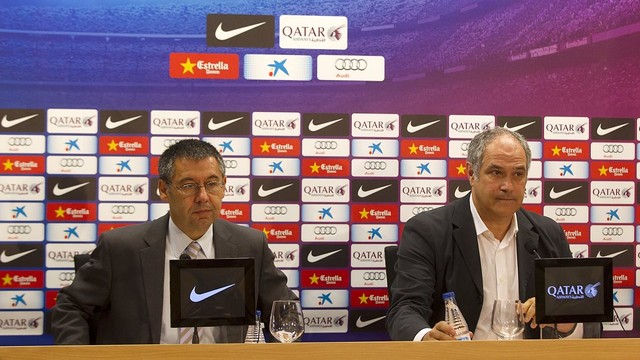 Barça's director of football is delighted with the squad as it is, with one title in the bag and a one hundred per cent record in the league suggesting things are going fine
"Puyol's recovery is going well" added Zubizarreta. "We're reasonably optimistic."
Bartomeu and Zubizarreta also presented the coaching staff for the 2013/14 season
The coaching staff
Bartomeu and Zubizarreta also presented the coaching team for the 2013/14 season, with Tata Martino as manager and Pautasso as his assistant. Roura and Rubi stay on as well. "Those are the coaches we have" said Zubi. "At the moment I haven't seen any of them with their arms crossed. It's a big team, but they all work well together … I congratulate Martino for being so flexible since he arrived. The team have also shown willingness. I think we're finding the right balance."
As usual following the closure of the transfer market, Josep Maria Bartomeu and Andoni Zubizarreta have spoken to the press about the general situation at the club. "It has been the strangest preseason" said the FC Barcelona vice-president for sport. "What we never expected was the enforced goodbye to Tito Vilanova." This altered many of the team's plans, but the director of sport assured those present that "despite the complexities, we have the squad we wanted".
"I'm delighted with the squad we have" continued Zubizarreta. "The team is competing extraordinarily well. You don't just find cups in the museum. You have to go out and win them … This team has always wanted to get better and think we're making an effort to do that."
Optimistic about Puyol
He also explained the situation concerning Carles Puyol. "His recovery is going very positively so we have included him in our considerations for the immediate future of the squad" commented Zubizarreta. "We are working on the idea of him returning after the international break. We're reasonably optimistic. Puyol has gone through a difficult patch and that says a lot for him."
But Zubizarreta did admit that Barça's main objective is still to find a centre back. However, the market doesn't always throw up the right options. "Throughout Barça's history, centre backs have always been difficult to sign" he explained. "Nobody has told me that any deals couldn't be made for financial reasons. But whenever you try to make deals you reach a point when you feel a player is only worth so much and no more."
Collaboration with Santos
Josep Maria Bartomeu confirmed that Neymar had cost 57 million euros, 17.1 of which corresponded to the player's federative rights. "Santos have freed us from the confidentiality agreement but one of the companies involved did not" said Bartomeu. "We have a global collaboration agreement with Santos for 7.9 million euros and preferential rights to three young footballers. We won't mention any names so as not to draw attention to them. If any of them come here, then that amount will be an advance payment on their future transfer fee."
Barça B seeking talent
Zubizarreta also spoke about the reserve team, saying that "we've gone for talent. We know we have an extremely young side, but they're very talented. We have to get such talent competing … Eusebio was the ideal man to deal with the team. I'd love it if more people went to the Mini to watch some great games of football."
Bartomeu and Zubizarreta ended by confirming the names of the new inclusions (Neymar, Sergi Roberto and Oier), the players that have left (Thiago, Fontàs, Abidal, Villa and Muniesa) and the ones that are out on loan (Krkic, Rafinha and Deulofeu). Overall, that means that there are currently 25 official first team players.