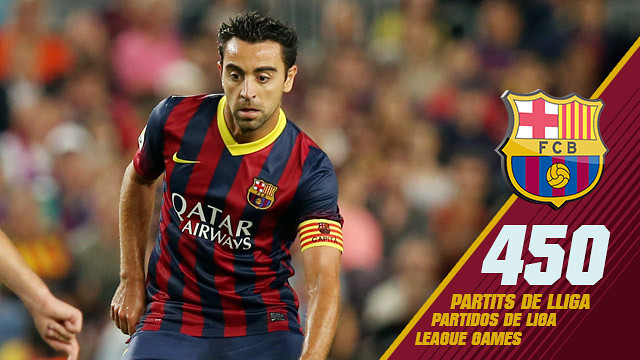 The midfielder has achieved this feat in just under fifteen years since making his debut in the competition
Marc Bartra topped the Barça stats for winning back the ball in Almeria
It's the best start to a league campaign in the Club's history and Saturday night's match against Almeria (0-2) produced plenty of interesting facts and figures:
• Xavi came on for the injured Messi and so made his 450th league appearance for the Club. He already holds the Club record for league appearances followed by Migueli, with 391.
• Xavi made his league debut almost fifteen years ago on 3rd October 1998 against Valencia (Barça won 1-3).
• In 450 league appearances he's been on the winning side on 282 occasions and scored 54 goals.
• Messi's first-half goal was his eighth in the league so far. He's already the fifth highest scorer in the history of the competition.
• Adriano Correia scored his second of the season. His first, away to Malaga (0-1), also came without Messi on the pitch.
• Neymar Jr sat out a complete match for the first time this season. So far he's accumulated 593 minutes for Barça.
• Valdés has kept six clean sheets in ten matches. Last season, the team went the opening six matches without conceding.
• Dani Alves has risen into third place in the ranking of foreign players with the most Club appearances, alongside Ronald Koeman. Messi and Cocu occupy the top two spots.

• With Mascherano sidelined by injury, Valdés and Piqué are the only players to have featured in every starting line-up in the ten competitive matches played so far. And only Valdés has played every minute.
• Marc Bartra started a game for the first time this season and also lasted the full 90 minutes for the first time since Barça's 4-0 defeat at the hands of Bayern Munich last season.
• The central defender topped the balls recovered stats for Barça (13) ahead of Piqué (12) and Alves (10). Below you can see Bartra's passes throughout the match: