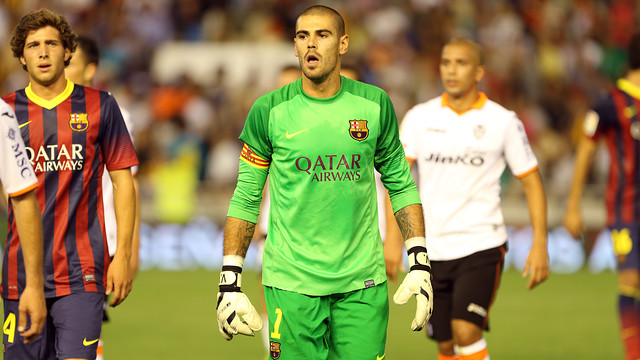 The keeper, after an exceptional performance in Mestalla, talks about the important of winning three more points in the race for the title
Training session on Wednesday
The team will return to training on Wednesday, September 4. The session will start at 10.00 in the morning at the Ciutat Esportiva Joan Gamper.
Cesc and Jordi Alba will not return to Barcelona this evening with Tata Martino and the team seeing that the players have the next couple of days off.
The FC Barcelona keeper was one of the standout players this evening in Mestalla and he was key in Barça's 2-3 victory against Valencia. Despite conceding two goals, he didn't hide his pleasure with how well he's been playing since the start of the season. "Personally I'm very pleased," he said before adding that "if you help the team win, you feel even better."
Championship victory
Valdés then went on to analyse this evening's match against Los Che. "We won a very important match in order to keep on fighting for the title," he said. He also highlighted how difficult it is to play in Mestalla: "These three points won in Mestalla were very hard fought, even when we were up 0-3 it wasn't over, and after their two goals we knew we were going to suffer." Valdés congratulated the team's defence on how well it has performed since the start of the season: "The secret to all of this is the defensive work the forwards and midfielders are putting in. The most important thing is that we all help each other."
The title can be won by anyone
The Catalan then went on to rubbish the idea that La Liga is a two horse race between Real Madrid and FC Barcelona. "All of the teams in La Liga are very good, the whole two horse race thing is a topic of discussion, but in Spain there are very difficult teams to beat, just like we saw today," he concluded.
Neymar, Andrés Iniesta and Jordi Alba also talked to the press after the match. Here are their statements:
Neymar:
"Our intensity dropped a bit at the end of the second half, and we conceded two goals. We have to correct that in the next match."
"Valencia played an excellent second half, it was difficult to play at our best."
"I'm feeling better physically little by little, but I need to improve throughout the season, and I'm sure that the whole team will improve both physically and tactically throughout the season."
Jordi Alba:
"Yes, we were up 0-3 and it looked like we were in control, but in the last four minutes of the first half they scored two goals. In the second half we could have scored our fourth, but it wasn't meant to be, but in the end we won the match."
"We've played against three tough teams (Malaga, Atlético and Valencia), and it's always difficult to beat them, but we've just started and there are a lot of games still to play. It's normal for things to be tough at the start of the season."
"I play the same way with our new manager. I went forward in the second half, and I felt good on the pitch… it's true though that it depends on the match. I always have to track back."
"Neymar is a fantastic player, he made a difference."
Andrés Iniesta:
"With the 0-3 on the scoreboard we let Valencia back in the match, but the effort we put in in the second half led us to victory."
"Mestalla is always a difficult ground to win at, because of the fans, the quality of the opponent… because of everything. The team tried to fight throughout the whole game and we dominated up until the 44th minute of the first half, after that they came close to equalising, but we won."
"We just started the season, and I'm sure that we'll improve."
"It's logical to have rotations, these are decisions that are made by the boss. We have to be ready when he needs us, that's the most important thing."