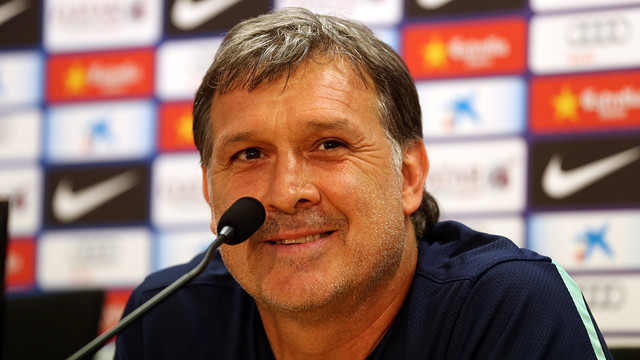 The Barça manager is less concerned about getting the club off to it's best ever start in the league, and more worried about where the team is standing in May
Almeria first
After Almeria and Barça have played, the whole of Spain's attention will be on the Madrid derby. Without denying that it'll be a great game to watch, the best of the weekend, Martino said "what Barça need to worry about is winning their own game."
[[DES_1]]Barça 's trip to Almeria on Saturday offers the chance of making it seven wins out of seven, which would be the best ever start by FCB to a league season. But in his pre-match press conference, Gerardo Martínez said that "winning 7 out of 7 wouldn't mean much if we don't end up winning the league. I'm more worried about where we'll be next May".
He also spoke about the dangers of an Almeria side that is hungry to get its first win of the season. "They have lost a lot of late points, but they have good players, like the four strikers" he said. "All teams are demanding in their own way and we have to be careful, but we clearly have a much better chance of winning if we can play our own way."
Hiding his cards
As usual, Martino preferred not to give anything away about his planned team for the trip to Andalusia. But when asked about Neymar, he did say that "between international and club matches, he has played the most minutes apart from Valdés. 8 games in 28 days. As I understand it, we have to protect him and look after him, because I don't want anyone exhausted when it comes down to the definitive matches … We are being very cautious about the game with Almeria but are also thinking about the one with Celtic. It's not long until the Tuesday match."
[[CITA_1]]
On Marc Bartra, who may well be playing now that Mascherano is injured, he said "he has great character, impetus and the hunger to do well at Barça. He'll settle down with time and we'll be seeing the best of him in a few years' time".
No pressure on Puyol
The Argentinian was keeping a close eye on Carles Puyol in Thursday's practice match. "He played for about 50 minutes against the reserve lads and he did well considering he's been out for so many months … He has got over the worst but we don't want to rush things. I hope that after the next break (October and 13), he'll be fit to play".
We have to protect Neymar, I don't want anyone exhausted when it comes down to the definitive matches