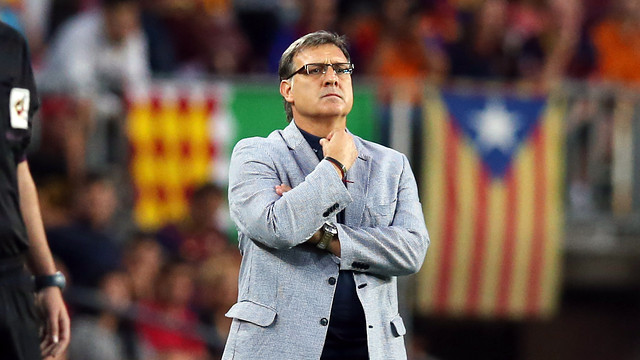 The Barça manager analyses Barça's victory over Sevilla
"Sevilla's goals are a consequence of our lack of control," says the manager
Ever since Gerardo Tata Martino arrived to the Barça bench he's always analysed his team's games strictly from the footballing perspective. After the narrow win over Sevilla (3-2), Martino said, "in the first half we did everything necessary to score, we created five very good goalscoring chances." But things changed in the second half: "Sevilla's substitutions hurt us but we managed to find space to close out the match but we didn't do it."
The three points were in jeopardy after Coke scored the equaliser on the 89th minute. "Sevilla's goals were a consequence of our lack of control," said the Argentine manager. He added: "We won but we have to work on a couple of aspects of play. I completely share the Club's idea of how to play, and we intent to recover some of the aspects of play from past seasons."
The group and individuals
"When we play as a group, the individuals shine," said Martino when asked about the plays that led to Messi (second) and Alexis' (third) goals.
In the second half Sevilla closed in on Valdés' goal with more frequency than the first half. When questioned about the subject, Martino noted that "we have to cover the space around Busquets so that he's not left alone and outnumbered."
Brilliance from Neymar and Messi
The match was decided by a goal scored by Alexis, but the play leading up to the goal came from Messi, and Barça's second of the night was borne out of the Neymar-Messi connection.
When asked about the two players, Martino said, "Neymar played an impeccable match because not only did he go forward but he also defended." On Messi, he added: "Messi started to get involved in favourable plays in the second half and he was very dangerous."
Despite conceding two goals, Martino defended both Piqué and Mascherano: "Mascherano has the physical characteristics to lead, correct and have the power on defence," and he added: "I share Piqué's initiative when he goes forward, and in those moments we have to cover that position."