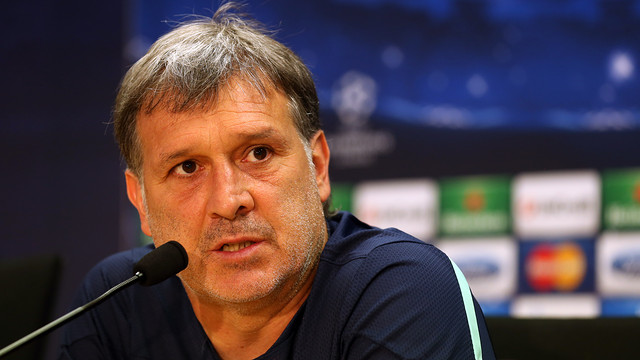 On Wednesday, the manager will be in charge of his first ever Champions League match, and has high hopes for what Barça can achieve
Tata Martino is about to be inducted into the world of the Champions League, and is thoroughly looking forward to the experience. "For any manager, being in the Champions League means a lot for their careers" he said in his press conference on the eve of the game with Ajax Amsterdam. "We have high hopes for the competition" he added.
On the opposition, Martino commented that "they have an academy that hardly ever changes. It's a team that is constantly developing and every year they sell off their best players."
Self-criticism
Martino is not bothered by the criticism the team has faced in recent matches, saying that "it is our obligation to always be self-critical." He admits that the team is lucky enough to be able to allow some margin for error, but they still need to work to smooth things out, adding that "we are used to criticism, especially because this is a team that has achieved such levels of excellence in recent years".
But he did comment that "we are still at the learning stage and yet we're already in a privileged position, having won every game so far".
Dead ball situations seem to be one area where Barça are lacking of late, and Tata claims that "this isn't because of zonal or man-to-man marking but because we're simply not as big. We have to find solutions for that, to make sure we can defend more effectively".
He also spoke about his rotation style, commenting that "it is harder to rotate Mascherano and Piqué as much as players in other areas of the pitch because they form a defensive triangle along with Valdés".