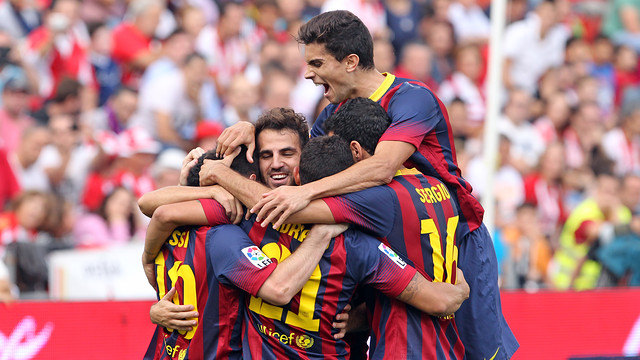 Tata Martino's Barça break the record for the best start to a league campaign in Club history, a record previous held by Bellamy (1929/30), Cruyff (1990/91), Van Gaal (1997/98), Guardiola (2009/10) and Vilanova (2012/13)
In these 7 matches, Barça have scored 24 goals and conceded only 5
Gerardo Martino's FC Barcelona have set a new record for the best start to a La Liga campaign in Club history. This Saturday's victory over Almería means that Barça have won their opening seven league games. This is the first time Barça have started off with seven wins from the seven opening matches of a league campaign since La Liga's founding in 1928. In these seven matches Barça have scored 24 goals and conceded only 5. The first team to win its opening seven matches was Espanyol, in the 1952/53 season.
Breaking the six-win barrier
The previous record of six wins from the seven opening matches of a league campaign was held by five Barça managers: Bellamy (1929/30), Cruyff (1990/91), Van Gaal (1997/98), Guardiola (2009/10) and Vilanova (2012/13). All of these managers went on to win the league title, with the exception of Bellamy.
Martino's Barça eye higher heights: 55 out of 57 points
Tata's men now have another record in their sights, breaking the record for the best ever first half of a season. Tito Vilanova's Barça nearly secured a perfect first half of the season last year when they secured 55 out 57 possible points (18 victories and 1 draw). The only match that Barça failed to secure the three points was in the clásico against Real Madrid, it ended in a two-all draw.