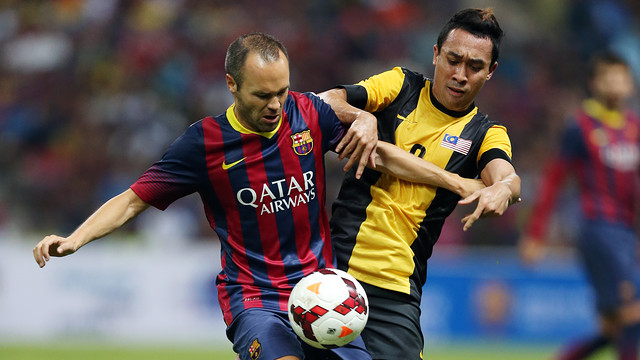 The president of FC Barcelona believes that Iniesta is "a cornerstone" of the Barça team
He also explains that as from next season the Catalan flag shirt design will become the third choice kit

Interviewed on the Catalan TV3 programme 'Hat Trick Barça', Sandro Rosell revealed that the Club hopes "to be able to announced Iniesta's renewal soon".
Rosell told the fans that talks are at an advanced stage to prolong Iniesta's deal with FC Barcelona, which currently expires in 2015. "Iniesta is one of the cornerstones. He should have his rightful place behind Messi". Rosell also revealed that he has been trying to persuade Víctor Valdés to stay at the Club.
Talks to extend Zubizarreta deal
Sandro Rosell also announced during the interview that Sports vice-president Josep Maria Bartomeu has begun preliminary talks with director of football Andoni Zubizarreta to extend his deal which is due to run out next summer. "We'll be offering to extend Zubizarreta's contract. I really like the work he's doing, and him as a person". However, Zubizarreta will be putting his final decision on hold until he's sorted out any outstanding issues with the squad.
Barça to wear the colours of the Catalan flag
The Club president looked back over a number of issues affecting the Club over the past few months, such as the resignation of Tito Vilanova, the arrival of Tata Martino, the departure of Abidal and the signing of Neymar. He also confirmed that the shirt reflecting the colours and design of the Catalan flag will be used for the third kit during the rest of the mandate of the current Board.