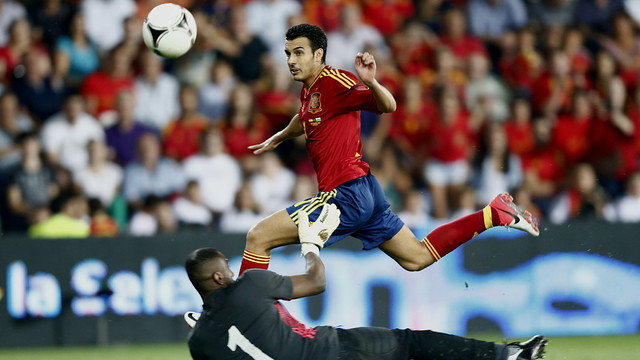 Spain, with five Barça players, and Chile, with Alexis, tied in the international friendly play in Geneva
Pedro and Alexis played the 90 minutes and Valdés, Xavi, Cesc and Iniesta played 45
Babunski starts for Macedonia
Barça B's David Babunski started for Macedonia in the match against Scotland. He was subbed off just before the break. Macedonia were defeated 1-2 by Scotland, which means that they are now in the lower positions of Group A. Neither of the teams can qualify for the World Cup.
Spain and Chile, two teams poised to qualify for the Brazil World Cup, faced off this Tuesday night in Geneva. Four FC Barcelona players were named to Spain's starting line-up – Valdés, Xavi, Cesc and Pedro – while Alexis started for Chile. At the break, Iniesta came on for Xavi, and Cesc and Valdés were subbed off later on for Navas and Reina, respectively. Pedro completed the match and Alexis was subbed off in added time.
Even though it was a friendly, the match was intense. Chile hounded Spain all over the pitch, and they took the lead on two occasions thanks to two strikes from Eduardo Vargas (minute 5 and 44). On 37 minutes, Spain scored the equaliser. Pedro served up a fantastic assist for Soldado, who headed the ball to the back of the net. Before the break, Cesc sent the ball to the woodwork.
Pedro gets his second assist
The second half started with a header from Alexis, but his attempt was unsuccessful. Vicente Del Bosque's men, who were down a goal, didn't give up. In added time, Pedro nudged the ball into Navas' path, the ex-Sevilla player then beat Bravo in goal.